Housing and Urban Development Dept. Proposes Banning Smoking in Public Housing
Monday, November 16, 2015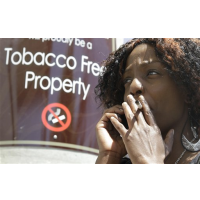 (photo: David Duprey, AP)
The Department of Housing and Urban Development (HUD) last week proposed a rule that would lead to a nationwide prohibition on smoking in public housing. The trick will be to get residents to comply.
HUD's proposal (pdf), which is likely to become law after a comment period, will force 3,100 public housing agencies to develop policies that would prohibit smoking in living units, indoor common areas, administrative offices and in all outdoor areas near housing and administrative office buildings, according to The Washington Post.
There's no question it will benefit the health of public housing residents. "We have a responsibility to protect public housing residents from the harmful effects of secondhand smoke, especially the elderly and children who suffer from asthma and other respiratory diseases," HUD Secretary Julián Castro said in a statement. "This proposed rule will help improve the health of more than 760,000 children and help public housing agencies save $153 million every year in healthcare, repairs and preventable fires."
But some public housing officials question how the policies will be enforced. "Obviously, there is a clear public health issue,'' Amy M. Glassman, who is of counsel at Ballard Spahr in Washington and represents public housing authorities, told the Post. "But especially when you're talking about banning smoking within their housing unit, folks take that as an issue of personal space and freedom, 'You're telling me what to do within the confines of my own home.' That's the main pushback issue.''
The New York City Housing Authority (Nycha) is the nation's largest such agency and houses more than 400,000 people in about 178,000 apartments. Its director wants to ensure that the regulations get buy-in from residents. "For us, the major issue is our ability to enforce something like this," Shola Olatoye, the chairwoman and chief executive of Nycha, told The New York Times. "It should be resident-led," she said, adding that the police department should not be used to enforce the rule.
A 2012 Nycha residents' survey showed that 14% of 1,209 respondents said they smoked, 24% said at least one member of their household was a smoker and more than 35% said their household included a child with asthma or other respiratory problems, according to the Times.
-Steve Straehley
To Learn More:
HUD Proposes Smoking Ban in Public Housing, Citing Dangers of Secondhand Smoke (by Jerry Markon and Lisa Rein, Washington Post)
Public Housing Nationwide May Be Subject to Smoking Ban (by Mireya Navarro, New York Times)
Instituting Smoke-Free Public Housing (Department of Housing and Urban Development) (pdf)
Number of Americans Exposed to Secondhand Smoke Declines, but it's still Blamed for more than 40,000 Deaths a Year (by Noel Brinkerhoff, AllGov)
San Rafael Ban on Smoking in Multi-Family Housing Takes Effect (by Ken Broder, AllGov California)