Hawaii's Growing Solar Energy Incentive Program Derailed by State-Imposed Limits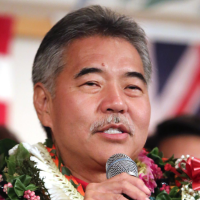 Gov. David Ige (photo: Twitter)
By Cathy Bussewitz, Associated Press
HONOLULU (AP) — Hawaii is a national leader in rooftop solar power, but despite the state's ambitious goal of using only renewable energy by 2045, people are being shut out of solar incentive programs because of limits set by the state.
On Maui, a program that reimburses customers who supply energy to the grid reached its maximum in June. The cap likely will be reached on Oahu — the state's most populated island — by the end of summer, experts say.
"We were going along fine at a pretty fair clip doing exactly everything that people in public policy in Hawaii want us to do, which is to get this stuff on people's roofs so that we use less oil," said Rick Reed, president of the Hawaii Solar Energy Association. "And then all of a sudden ... boom. Things change overnight, and it's been incredibly disruptive."
In October, Hawaii ended its popular net energy metering program, which refunded customers at the full retail rate for electricity they supplied to the grid. The customer grid supply program that replaced it offers a lower reimbursement rate — and it's filling up.
Critics say capping the amount of people who can participate boosts profits for the utility, which makes less money when people supply their own electricity.
"It comes down to a financial issue," said state Rep. Chris Lee, chairman of the House Committee on Energy and Environmental Protection. "The more distributed generation, the more power that individuals generate themselves, the less of a customer base the utility ultimately has in the long run."
Around the country, several states that offer tax credits for solar installations have been ending programs or allowing them to expire. Utilities have lobbied lawmakers and regulators nationwide to reduce incentives, arguing the solar industry can stand on its own.
In Hawaii, 14 percent of all new construction costs in 2015 came from solar installations on homes, according to the Hawaii State Energy Office. But in the past six months, 88 percent of solar companies polled by the Hawaii State Energy Association reported job losses.
"Folks have gone out of business," Reed said. "There's some walking zombie companies that are barely squeaking along."
Hawaii has the nation's highest electricity costs, in part because it relies heavily on imported oil. Two-thirds of Hawaii's energy came from oil in 2014, compared with less than 1 percent for the whole country, according to the energy office.
But nearly a quarter of the state's energy came from renewable sources in 2015, and 30 percent of that came from customers supplying energy to the grid, according to data from the Public Utilities Commission.
Randy Iwase, commission chairman, said the net energy metering program was never intended to be permanent, and reimbursing customers at the full retail rate was costly.
"That has to be paid by somebody," Iwase said, adding it's unfair to people who can't install solar panels. He said the program met its goals because the state now has solar installed on more than 70,000 homes and businesses.
People who live in an apartment or a community with a homeowners association often can't install solar panels, said Darren Pai, spokesman for Hawaiian Electric, the state's largest utility.
"We want to make sure that those customers are treated fairly, and that customers who do have the option to can do it," he said.
Another Hawaii program lets customers with solar power connect to the grid, but it doesn't reimburse them for energy supplied. It hasn't taken off.
Iwase said the customer grid supply program had to be capped because the grid can only handle so much renewable energy, and the state should have a mix of renewable energy sources, including utility-scale projects. Utility executives have argued the power generated — which varies when it comes from wind or the sun — must match customer demand for the grid to be stable.
Kauai County's utility uses plenty of solar energy both from utility-scale and distributed sources, Hawaii Gov. David Ige said.
"During peak hours during the day, they get very close to 100 percent of their energy being provided by solar," Ige said. "The challenge is to really examine what kinds of caps and limits make sense, and then drive those caps as high as we can while maintaining grid stability."
To Learn More:
Remote U.S. Research Center Converts to 95% Renewable Energy (by Steve Straehley, AllGov)
Utility Companies Block Renters from "Virtual" Solar Power (by Ken Broder, AllGov California)