Gun Murders in Missouri Increase after Easing of Gun Control Laws
Wednesday, December 23, 2015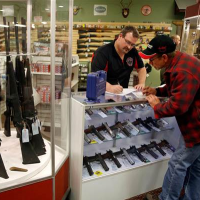 Gun sale at a Missouri gun shop (photo: Jeff Roberson, AP)
The state of Missouri experienced a sharp increase in gun homicides after it relaxed its gun control laws, according to a recent study.
Until eight years ago, Missouri had one of the country's toughest gun control laws. They required anyone purchasing a gun permit to undergo a background check in person at a sheriff's office. But in 2007, the state legislature repealed that law and has since adopted others making gun ownership less restricted, including one last year that allowed those as young as 19 to carry a concealed weapon.
Six years after the background checks were repealed, the gun homicide rate had gone up 16%, according to research by Daniel Webster, director of the Johns Hopkins Center for Gun Policy and Research. During the same period, the national rate declined by 11%.
"After Professor Webster controlled for poverty and other factors that could influence the homicide rate, and took into account homicide rates in other states, the result was slightly higher, rising by 18 percent in Missouri," The New York Times' Sabrina Tavernise wrote.
Federal data released last month showed that from 1999 to 2006, Missouri's gun homicide rate was 13.8% higher than the national rate. After the background checks were repealed, from 2008 to 2014, it was 47% higher.
Researchers cautioned the Times that the increased homicide rate was not shown to be tied to the changes in the law.
-Noel Brinkerhoff, Steve Straehley
To Learn More:
In Missouri, Fewer Gun Restrictions and More Gun Killings (by Sabrina Tavernise, New York Times)
Effects of the Repeal of Missouri's Handgun Purchaser Licensing Law on Homicides (by Daniel Webster, Journal of Urban Health) (abstract)
Should Gun Buyers be Subjected to Same Scrutiny as Abortion Seekers? (by Noel Brinkerhoff and Steve Straehley, AllGov)
Missouri Law would Allow Arrest of Federal Agents Enforcing National Gun Laws (by Noel Brinkerhoff, AllGov)