International Report Predicts Renewable Energy Sources will Pass Natural Gas by 2016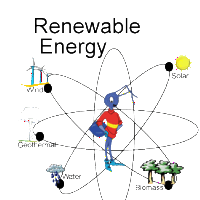 (graphic: U.S. Energy Information Administration)
Wind, solar, hydro and other renewable forms of energy are growing worldwide at such a rate that they will become more popular than natural gas in just three years and double the amount of energy produced by nuclear power.
Renewable power should increase by 40% in the next five years, according to a new report from the International Energy Agency (IEA), which advises net oil importer nations.
The report says renewables are now the fastest-growing types of power generation and will comprise almost 25% of global energy by 2018. Only two years ago, renewables made up about 20% of the planet's power sources.
The amount of non-hydro energy generated by wind, solar, bioenergy and geothermal is expected to double, from 4% in 2011 to 8% by 2018.
"As their costs continue to fall, renewable power sources are increasingly standing on their own merits versus new fossil-fuel generation," IEA Executive Director Maria van der Hoeven told the Renewable Energy Finance Forum in New York. "This is good news for a global energy system that needs to become cleaner and more diversified."
The IEA says two main factors are "driving the positive outlook" for renewable power generation: They're becoming cost-competitive with fossil fuels and offering a cleaner source of energy in emerging countries trying to reduce their greenhouse gas emissions.
-Noel Brinkerhoff
To Learn More:
Renewables to Surpass Gas by 2016 in the Global Power Mix (International Energy Agency)
Renewable Energy Medium-Term Market Report 2013 (International Energy Agency) (pdf)