Group Pushes for Limits on On-Call Work Scheduling
Wednesday, September 07, 2016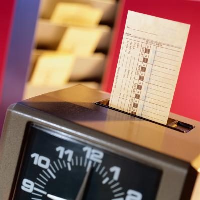 Credit: Ryan McVay/Photodisc/Getty Images
By Michael Virtanen, Associated Press
ALBANY, N.Y. — A coalition of New York-based advocates on Tuesday launched a national campaign to press large retailers, restaurant chains and other companies to end on-call and last-minute scheduling, which allows companies to assign shifts to workers with only a few hours' notice.
The campaign follows recent agreements by several large retailers with New York's attorney general to end the practice in that state.
The Center for Popular Democracy, the Rockefeller Foundation and the online organization Purpose are calling for scheduling at least two weeks in advance, eliminating on-call assignments that leave employees scrambling for child care, unable to hold second jobs and with uncertain paychecks.
"Already major employers are responding to mounting public pressure to deliver more stable work schedules to their front-line employees," said Carrie Gleason, director of the center's Fair Workweek Initiative. "This movement is about a greater voice in how much and when we work — predictable and stable hours, more input and the opportunity to work enough hours to make ends meet."
They say three in five American workers — about 75 million people — are paid hourly, with recent job growth mainly in low-wage jobs, often part-time and subject to last-minute scheduling practices.
The Workshift campaign, formed by Purpose and the Rockefeller Foundation last year, says employer software aimed at savings and efficiency is behind the growth in last-minute worker scheduling with broad consequences. Those include lower pay, higher job turnover and unhealthy series of changing or extended shifts with little rest.
"For too long, hourly workers at retail chains, fast food companies and other businesses have been squeezed by companies who employ unfair scheduling practices to maximize their profits at the expense of their workers," said Jose Martinez Diaz, Workshift campaign director. The organization is asking people to sign its online petition for predictable scheduling.
In December, New York Attorney General Eric Schneiderman said Pier 1 Imports had agreed to end on-call shifts at stores nationally, posting schedules at least 10 to 14 days in advance.
His office had sent letters to 14 retailers questioning the practice and citing possible violations of New York's requirement to pay hourly staff for at least four hours when they report for work.
Retailers that have agreed to stop included Abercrombie & Fitch, Gap, Banana Republic, Old Navy, J. Crew, Urban Outfitters, Bath & Body Works and Victoria's Secret. Other companies contacted say they weren't using on-call scheduling.
In April, attorneys general from eight states and the District of Columbia sent letters to retailers with outlets in their states expressing concerns about on-call scheduling. Companies included American Eagle, Aeropostale, Payless, Disney, Coach, PacSun, Forever 21, Vans, Justice Just for Girls, BCBG Maxazria, Tilly's Inc., David's Tea, Zumiez, Uniqlo and Carter's.
The states were California, Connecticut, Illinois, Maryland, Massachusetts, Minnesota, New York, and Rhode Island.
To Learn More:
California Low-Wage Earners' Reward for Higher Productivity—Less Money (by Ken Broder, AllGov California)
Program to Import "Needed" Tech Workers Displaces 400 Laid-Off SoCal Edison Workers (by Ken Broder, AllGov California)
Recycling: Good for the Environment, Dangerous for Workers (by Noel Brinkerhoff, AllGov)