Gov. Jindal Sues to Stop Education Program He Signed into Law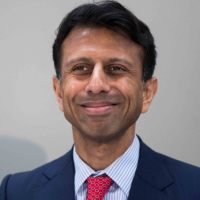 Gov. Bobby Jindal (photo: Bill Clark, CQ/Roll Call/Getty Images)
Call him fickle.
Louisiana Republican Gov. Bobby Jindal once supported Common Core educational standards. In a speech given January 17, 2012, he outlined his education plan, including the adoption of Common Core. He subsequently signed into law legislation instituting the Common Core standards in his state.
Now, since he's running for president and Common Core standards are opposed by the Tea Party wing of the GOP, Jindal has changed his tune—so dramatically, in fact, that he's suing (pdf) the federal Department of Education, claiming Washington is imposing the standards on his state.
Common Core is a voluntary set of standards to measure the performance of students in each grade and suggestions about what should be included in the curriculum. That's it. The program is merely trying to ensure that, for instance, a fifth-grader in Alabama is able to do the same math calculations as a fifth-grader in California or Massachusetts.
The federal government has offered grants to states that participate in Common Core, but it has always been up to the states whether to participate in those programs. Louisiana is one of the states that has done so.
But Jindal is now suing the federal government to block a voluntary program he once embraced, claiming states are being ordered to adopt the standards and are forcing local school boards down a path toward a national curriculum. The grants, which are voluntary and his state accepted, are a violation of the constitution, Jindal says, and "force the states to implement a federal program."
In testimony last week before a federal judge in Baton Rouge, Louisiana, experts said that the state isn't forced to use Common Core standards even to qualify for some of the federal grants it has been receiving. Race for the Top money, for instance, has continued to flow to the state even though Louisiana switched from Common Core testing to ACT-based testing for high school students.
Louisiana's legislature is moving through bills that would require a review of the state's curriculum to appease those opposed to the Common Core standards. Jindal has reluctantly given his support to the bills, although it's unclear that they would give him enough political cover with those who oppose the Common Core standards.
U.S. District Judge Shelly Dick ruled that Jindal's case will be heard in February, coincidentally or not, just as the presidential primaries kick off.
-Steve Straehley
To Learn More:
Bobby Jindal's Lawsuit Against Common Core Law He Signed Moves Forward (by Casey Quinlan, ThinkProgress)
Bobby Jindal Lawsuit Challenging Common Core Now in Hands of Federal Judge (by Joe Gyan Jr., Baton Rouge Advocate)
Louisiana Common Core Compromise Earns Support From All Sides—Including Bobby Jindal (by Julia O'Donoghue, New Orleans Times-Picayune)
Gov. Bobby Jindal's Bizarre Scheme To Stop His Own Education Plan By Suing The Obama Administration (by Ian Millhiser, ThinkProgress)
Gov. Jindal Asks Federal Judge to Remove Common Core From Louisiana Schools (by Joe Gyan Jr., Baton Rouge Advocate)
Common Core State Standards Initiative (Wikipedia)