Georgia Secretary of State Accused of Disclosing Personal Details of 6 Million Voters…and Hiding the Mistake
Friday, November 27, 2015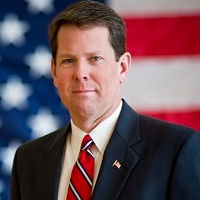 Brian Kemp
Georgia's top elections official is being sued for disclosing personal data belonging to more than 6 million voters, as well as trying to keep his gaffe under wraps.
Republican Brian Kemp, the Georgia secretary of state, sent out a voter file to 12 recipients—media and political parties—that contained more than the usual names and addresses. Also in it were Social Security numbers, driver's license numbers, and dates of birth for 6,184,281 registered voters, according to a lawsuit filed by Elise Piper and Yvette Sanders.
The two women, who filed a class-action lawsuit against Kemp, said they were among those whose information was revealed.
Piper and Sanders also claim Kemp failed "to provide the required statutory notice of the breaches of security that occurred after his office released voters' personal identifying information."
Kemp blamed the information release on a clerical error.
-Noel Brinkerhoff
To Learn More:
Voters Sue Georgia Official for Data Breach (by Kevin Lessmiller, Courthouse News Service)
Georgia Sent Out CDs of Data from 6M Voters Containing SSNs, Birth Dates (by Megan Geuss, Ars Technica)
Georgia's Republican Secretary of State Fights to Delay Registration of Tens of Thousands of New Democratic Voters (by Steve Straehley and Noel Brinkerhoff, AllGov)