For First Time, EPA Sets Limits on Dumping of Toxic Metal Pollutants by Steam Power Plants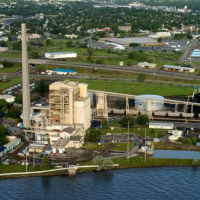 Montana's J.E. Corette coal-fired power plant (photo: Matthew Brown, AP)
Power plants that rely on coal-fired steam to produce electricity will for the first time be subject limits on the amount of toxic metals that can be dumped into waterways.
The Environmental Protection Agency (EPA) has updated the Steam Electric Power Generating Effluent Guidelines, which have not changed since 1982, to include restrictions that prevent 1.4 billion pounds of toxic metals and other pollutants from reaching waterways annually.
Federal regulators are targeting 64,400 pounds of lead, which has been linked to developmental and reproductive problems, and 79,200 pounds of arsenic, a known carcinogen. The EPA also wants to cut down on mercury discharges by 2,820 pounds and aluminum by 1.97 million pounds. Reducing these pollutants is expected to help 23,600 miles of waterways.
EPA claims the new rules will affect only 134 of 1,080 power plants in the U.S., which will have to invest in new equipment to comply with the new rule.
"The EPA estimates that compliance costs for the rule will total around $480 million each year, while monetary benefits will total anywhere from $415 to $566 million," according to ClimateProgress.
-Noel Brinkerhoff
To Learn More:
EPA Rule Aims to Curb Toxic Coal Plant Pollution in Waterways (by Katie Valentine, ClimateProgress)
New Limits Set on Steam Electric Plant Waste (by Elizabeth Warmerdam, Courthouse News Service)
Steam Electric Power Generating Effluent Guidelines - 2015 Final Rule (Environmental Protection Agency)
House of Representatives Votes to Limit Restrictions on Dumping Coal Ash Waste into Water Supply (by Noel Brinkerhoff and Steve Straehley, AllGov)
EPA Declines to Classify Coal Ash as Hazardous Waste (by Steve Straehley, AllGov)