For First Time, EPA Draws Link between Dallas Quakes and Fracking
Wednesday, August 24, 2016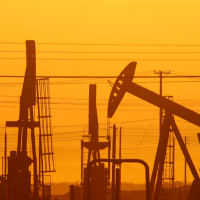 Fracking wells (photo: David McNew, Getty Images)
By David Lee, Courthouse News Service
DALLAS (CN) — In a rebuke to Texas regulators, the U.S. Environmental Protection Agency stated for the first time that there is a "significant possibility" that disposal wells for fracking are causing earthquakes in the Dallas area.
Irving, a northwest suburb of Dallas, has been rattled by several earthquakes since April 2014, with the highest magnitude of 3.6 recorded in January 2015. The earthquakes shook the city of 230,000 though there are no active fracking or wastewater injection wells in the city.
The Texas Railroad Commission, which regulates oil and gas drilling, has been reluctant to acknowledge any connection between drilling and earthquakes, despite the conclusions of scientists and regulators in other states. The commission has said that scientific data do "not sufficiently support a causal relationship," according to the EPA.
But in an Aug. 15 report, the EPA said: "In light of findings from several researchers, its own analysis of some cases, and the fact that earthquakes in some areas diminished following shut-in or reduced injection volume in targeted wells, EPA believes there is significant possibility that North Texas earthquake activity is associated with disposal wells."
The 61-page report is the EPA's annual evaluation of the Railroad Commission's underground injection control program released. It commends the Railroad Commission for its "early engagement" with disposal well operators near earthquakes in Azle, Cleburne and Dallas-Fort Worth International Airport.
"This action resulted in successful voluntary closure or injection volume reduction for several Class II disposal wells," the EPA said in the report. "Seismic activity in these three areas substantially diminished in frequency and magnitude; however, earthquake events continue in other areas of North Texas."
The EPA says in the report that it is "concerned" by the level of seismic activity because of "the potential to impact public health and the environment," including drinking water.
"EPA recommends close monitoring of injection activity through daily recording and reporting of accurate injection pressures and volumes from area disposal wells, coupled with appropriate data analysis methods, in a coordinated effort to detect possible correspondence with seismic activity."
Fracking, or hydraulic fracturing, involves injecting pressurized fluid to break shale rocks to release natural gas. It was popular for several years in the vast Barnett Shale in North Texas, as rising energy prices made the expensive process more profitable.
Citing environmental fears, the nearby city of Denton tried to ban fracking but was overruled by the Texas Legislature, which passed a law last year prohibiting cities from regulating drilling.
To Learn More:
Texas and Oklahoma Question whether Fracking Disposal Wells Cause Earthquakes (by Noel Brinkerhoff, AllGov)
Fracking Blamed for Series of Earthquakes in Texas City (by Steve Straehley, AllGov)