Florida Jury Acquits Low-IQ Defendant in Botched ATF Sting
Wednesday, August 06, 2014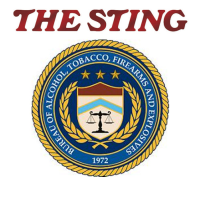 (graphic: Steve Straehley, AllGov)
Criticized for targeting disabled people in its sting operations, the Bureau of Alcohol, Tobacco, Firearms and Explosives (ATF) has lost a Florida criminal case in which a jury acquitted an intellectually disabled defendant.
Alexis Davis was found not guilty on two counts after jurors agreed with the defense that ATF entrapped the man with a second-grade reading level and an IQ of 59. Jurors hung on a third count that was later dismissed.
ATF claimed Davis provided agents with illegal guns. But his attorney, Sharon Samek, successfully argued that her client was encouraged by the agency to get the weapons, and that without agents "pressing" him to break the law, he never would have done so in the first place. "He never would have possessed the guns if they hadn't come up with that store," Samek told the Journal Sentinel, referring to the phony business that ATF ran to find and pursue criminals.
Davis' disability should have been obvious to ATF agents running the "store." At one point, Davis picked up a Magic 8-Ball toy and asked what it was. ATF Special Agent Yannick DesLauriers responded: "You ask it a question." Davis replied: "I got to whisper to it?"
A member of the jury that tried Davis said it was a clear case of entrapment on the part of the ATF. "To me, this was not about fighting crime," said Michael Lehman of St. Petersburg Beach. "There is a lot of crime going on in the world, you don't need to manipulate the circumstances in order to encourage people to do bad things that they might or might not otherwise do."
ATF's sting tactics have been blasted by Attorney General Eric Holder and civil libertarians. In addition to the nation's top law enforcement officer calling the operations "ridiculous," the American Civil Liberties Union (ACLU) also objected.
"This practice is an appalling abuse of authority." Emma Andersson, attorney for the ACLU's Criminal Law Reform Project, said in a statement: "We are carefully reviewing several Bureau of Alcohol, Tobacco, Firearms and Explosives cases in which agents have used people with mental disabilities so that we can evaluate the conduct of the agents, the culpability of the agency, and determine what legal actions may be appropriate to combat this practice."
ATF chief B. Todd Jones said his agency would no longer perform storefront stings unless they can be done properly. In addition, the ATF will institute training for its agents to recognize intellectually impaired people.
-Noel Brinkerhoff, Steve Straehley
To Learn More:
Florida Jury Rules Man with Low IQ Not Guilty in ATF Sting (by John Diedrich, Milwaukee Journal Sentinel)
FBI Accused of Entrapping Muslims; ATF Accused of Entrapping Minorities (by Noel Brinkerhoff, AllGov)
ATF Used Mentally Disabled and Felons to Run Storefront Stings (by Noel Brinkerhoff, AllGov)