Florida Environmental Protection Employee's Mental Health Questioned after Mentioning Climate Change in a Meeting Summary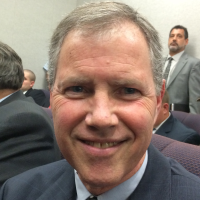 Bart Bibler (photo: Palm Beach Post)
The administration of Florida Gov. Rick Scott (R) has previously ordered its employees not to mention the term "climate change" in the course of their official duties. Now, in what appears to be a further attempt at chilling discussion of the threat to the planet, a state employee has been suspended for mentioning the forbidden phrase in meeting notes and told to get a doctor's release before returning to work.
Barton Bibler is a Land Management Plan Coordinator in Florida's Division of State Lands. After a Florida Coastal Managers Forum, Bibler turned in a meeting summary that mentioned climate change, which is an undeniable threat to the low-lying state, and he inadvertently left the word "agenda" in the memo header, according to Public Employees for Environmental Responsibility (PEER). Bibler was ordered to remove mentions of climate change and the word agenda. He sent the note back, minus "agenda" but with climate change mentions intact and with a logo that urged a stop to the Keystone XL pipeline.
Bibler on March 9 was reprimanded (pdf) and suspended from his job for two days. In addition, he was told he had to get a waiver (pdf) from his doctor before he could return to work.
"Bart Bibler has fallen through a professional looking glass in a Florida where the words 'climate change' may not be uttered, or even worse, written down," Florida PEER Director Jerry Phillips said in a statement. "If anyone needs mental health screening it is Governor Rick Scott and other officials telling state workers to pretend that climate change and sea-level rise do not exist."
PEER has requested the state Department of Environmental Protection investigate Bibler's case, in particular the chilling effect Scott's directives have had on state employees and whether the order to change the meeting notes violated Florida law.
To Learn More:
Scott's Climate Change Gag Order Claims a Victim (Public Employees for Environmental Responsibility)
Rick Scott 'Climate Change' Gag Order Claims First Victim, Enviro Group Says (by Peter Schorsch, Saint Peters Blog)
Florida Environmental Dept. Employees Told to not use Terms "Climate Change" and "Global Warming" (by Danny Biederman and Noel Brinkerhoff, AllGov)
Colorado Fracking Regulation Pits State and Industry against Locals (by Noel Brinkerhoff and David Wallechinsky, AllGov)