Colorado Fracking Regulation Pits State and Industry against Locals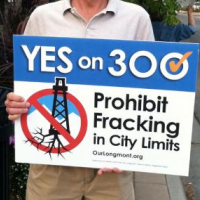 Longmont, Colorado fracking ban
Control over who regulates fracking operations was expected to be one of the biggest issues on the November ballot in Colorado. But a compromise between two powerful Democratic politicians may have calmed some of the brewing fight.
On Monday, Rep. Jared Polis announced he would withdraw his support for two ballot initiatives that would curb fracking in the state, while Gov. John Hickenlooper, who opposed the initiatives, said he would attempt to get the Colorado Oil & Gas Association to pull its lawsuit against the cities of Fort Collins and Lafayette, which banned fracking.
Initiatives 88 and 89 are being pushed by Coloradans for Safe and Clean Energy, which wants to give local governments more control over where drillers can operate. The measures would also keep new oil and gas wells at least 2,000 feet from homes and schools. A recent poll showed that a majority of Coloradans support both initiatives.
The oil and gas industry promoted two initiatives of its own for the November ballot. Initiative 121 would cut off communities that bar energy development from receiving industry revenue administered by the state. Five local governments have approved fracking bans in Colorado. Initiative 137 would require the state to compile a fiscal impact evaluation for all ballot measures.
Yesterday, Coloradans for Safe and Clean Energy submitted petitions to go ahead with the local control ballot initiatives, but said they would withdraw them if the Colorado Oil & Gas Association, which had already submitted their petitions, agreed to withdraw their ballot initiatives.
-Noel Brinkerhoff, David Wallechinsky
To Learn More:
Deal may Keep Fracking off Colorado Ballot, but There's a Hitch (by Maeve Reston, Los Angeles Times
A Big Oil and Gas Drilling Battle Brews in Colorado (by David O. Williams, Government Executive)
Colorado Gearing Up for Fracking Ballot Measures (by Dan Frosch, Wall Street Journal)
Colorado Halts Use of Injection Well for Fracking Waste because of Earthquakes (by Noel Brinkerhoff, AllGov)