Federal Judge Rejects Video Surveillance of Home without Warrant
Tuesday, December 16, 2014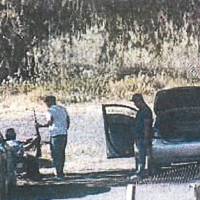 Image from police surveillance footage of Leonel Vargas' home (photo: Kennewick Police Department)
Police in rural Washington State put the front of a home under 24-hour video surveillance for weeks without obtaining a warrant. But a federal judge ruled the surveillance was unconstitutional and threw out evidence gathered as a result of the filming.
The case, United States v. Vargas, arose after the Tri-Cities Violent Gang Task Force in Eastern Washington targeted Leonel Vargas for round-the-clock surveillance. Police mounted a camera on top of a utility pole near Vargas' home and pointed it at his front door. They collected six weeks of footage, all without a warrant.
Vargas was recorded shooting beer bottles in his backyard. Because he is an undocumented immigrant and thus prohibited from possessing firearms, police used the video to obtain a warrant to search the inside of Vargas' house. He was then arrested for possessing guns and drugs.
Vargas challenged his conviction on grounds that the evidence used against him was obtained illegally because the surveillance constituted a violation of the Fourth Amendment's guarantee against unreasonable searches by the government. Prosecutors argued that no one enjoys the right of privacy when it comes to the front of their home if it faces a public street.
Senior U.S. District Court Judge Edward Shea agreed with the defendant and the Electronic Frontier Foundation (EFF), which filed a brief in support of Vargas.
EFF's Hanni Fakhoury wrote "the court was convinced with our arguments that the invasiveness of constant video surveillance pointed continuously at one of the most sensitive and private places—the front of a person's home—triggers constitutional protection."
"Relying on cases decided almost 30 years ago, the government argued that it's unreasonable for people to expect privacy in an area visible to the public. But as we explained in our amicus brief, no one expects their house to be placed under invasive 24/7 video surveillance for a month," he added. "And as the U.S. Supreme Court recently reaffirmed in Riley v. California, the ability for technology to reveal a 'broad array of private information' means courts must be particularly vigilant in protecting constitutional rights in the 21st Century."
-Noel Brinkerhoff
To Learn More:
Federal Court Agrees with EFF, Throws Out Six Weeks of Warrantless Video Surveillance (by Hanni Fakhoury, Electronic Frontier Foundation)
Who's Watching? (by Jacob Jones, Inlander)