Federal Judge Affirms Cancellation of Washington Redskins Trademark as Offensive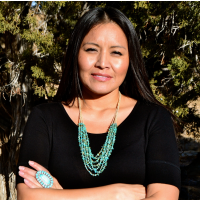 Amanda Blackhorse (photo: Malcolm Benally)
The Washington Redskins have lost another battle in their effort to retain the trademark to their name, this time before a federal judge.
The U.S. Patent and Trademark Office ruled last year that the Redskins cannot keep the trademarks behind its football franchise because the name is "disparaging to Native Americans." The team then took its case to a Virginia federal court, where District Judge Gerald Lee this week affirmed the Trademark Office's ruling.
Lee wrote (pdf) that the five Native Americans challenging the use of the name provided "a preponderance of the evidence" for their case and that the "record evidence shows that the term 'redskin,' in the context of Native Americans, was offensive."
Federal law prohibits the use of trademarks that disparage people or brings "them into contempt, or disrepute," according to Courthouse News Service. But to cancel a trademark on those grounds can only be done so if it was considered disparaging at the time it was original filed. The Redskins' trademark was filed in 1967. Lee said that 70 years prior to the filing, a dictionary definition of the word called it "often contemptuous."
However, Lee emphasized that his ruling does not affect the team's use of the word "redskins" or whether it must change its name. "To be clear, the court's judgment is not an order that preclude PFI [Pro Football, Inc., the Redskins' owner] from using the marks in commerce," Lee said. "Nor does the court's ruling that the Redskins Marks consisted of matter that 'may disparage' a substantial composite of Native Americans during the relevant time period preclude sports fans from collecting, wearing, or displaying the Redskins Marks." He said that the organization's use of the term is "a business judgment beyond the purview of this court's jurisdiction."
The Native Americans led by Amanda Blackhorse started their challenge nine years ago to nullify a total of five team-name trademarks and one related to its cheerleaders, called the Redskinettes.
Blackhorse's attorney, Jesse Witten, called the judge's ruling "a huge victory" and a "watershed event," according to The Washington Post.
However, Witten said the legal fight probably is not over, as he expects the franchise to appeal Lee's ruling. "The team has been fighting this case so hard and leaving no stone unturned and scorching every square inch of earth that it's hard to imagine they will not appeal," he said.
-Noel Brinkerhoff, Danny Biederman
To Learn More:
Cancelation of Redskins' Trademark Upheld (by Lorraine Bailey, Courthouse News Service)
Pro-Football v. Amanda Blackhorse (U.S. District Court, Eastern Virginia) (pdf)
U.S. Patent Office Cancels Redskins Trademark as Disparaging, Fueling Opposition to Team Name (by Noel Brinkerhoff, AllGov)