Federal Court Gives Medical Marijuana Dispensary Owner 10 Years in Prison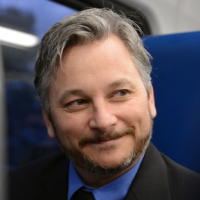 Aaron Sandusky (photo: 420magazine.com)
Despite state laws legalizing medical marijuana, the former owner of three pot shops in Southern California's Inland Empire was sentenced by a federal judge to 10 years in prison on Monday.
Aaron Sandusky was found guilty of conspiracy to manufacture marijuana and intent to distribute at his G3 Holistic facilities after a jury trial last October that was largely devoid of discussion about the conflict between state and federal law. Sandusky's brother and four employees pleaded guilty and are awaiting sentencing. G3 co-founder John Leslie Nuckolls II agreed to a plea bargain and testified against Sandusky.
While federal law criminalizes possession and sale of pot, California legalized medical marijuana in 1996 and authorized nonprofit cooperatives as dispensaries in 2004. The federal government was content to let California roll out its pot shops statewide without interference until the end of 2011 when four U.S. Attorneys representing the Department of Justice began shutting some of them down and arresting their owners. Sandusky was one of the few owners to fight back.
No reconciliation of state and federal policies appears near as courts, legislatures and chief executives give conflicting government signals to the public.
The signal from the judge in Sandusky's case, however, was clear. This was a federal trial, not state, and his written jury instructions reportedly reflected the trial's narrow scope. "Congress has defined marijuana as a schedule I controlled substance, making it illegal under federal law. You must disregard any state or local law to the contrary."
The defense was discouraged from arguing that Sandusky was obeying California law, using public statements made by Attorney General Eric Holder and President Barack Obama, or citing FBI agents who, they said, had assured Sandusky his actions were legal.
While Sandusky was learning his actions were illegal, another high-profile target of federal prosecution won a round in court this week. Chief Federal Magistrate Maria-Elena James ruled in San Francisco that the nation's largest medical marijuana dispensary, Harborside Health Center, can stay open while the U.S. Attorney proceeds with civil forfeiture actions against it.
The federal government has pressured the center's landlords in San Jose and Oakland to seek preliminary injunctions preventing the sale of marijuana at the facilities while the forfeiture action moves forward. But the judge rejected the request and said "any argument about the urgency of stopping Harborside's activity rings hollow."
Ken Broder
To Learn More:
Medical Marijuana: Ten Years for G3 Holistics Owner (by Richard K. De Atley, Riverside Press-Enterprise)
Marijuana Dispensary Operator Aaron Sandusky Sentenced to 10 Years (by Wes Woods II, San Gabriel Valley Tribune)
Feds Sentence Medical Marijuana Dispensary Owner Aaron Sandusky to 10 Years (by Thomas H. Clarke, The Daily Chronic)
Judge Rejects Bid to Shut Oakland Pot Dispensary (by Lee Romney, Los Angeles Times)
Federal Medical Marijuana Prisoners and Cases (California NORML)
Aaron Sandusky Convicted in a Trial Where State Marijuana Law Couldn't Be Mentioned (by Zach Weissmueller, Reason)
L.A. Adds to Medical Marijuana Confusion, Puts Pot Dispensary Ban on Hold (by Ken Broder, AllGov California)