FDA Refuses to Ban BPA from Food Containers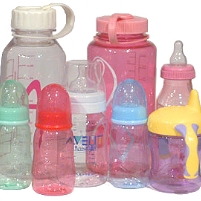 Just weeks after a landmark
study
found that even low dose exposures to endocrine disrupting chemicals like bisphenol-A (BPA) produce significant, adverse health effects on people, the
Food and Drug Administration
(FDA) last week rejected a petition from environmentalists that would have banned BPA from all food and drink packaging, including plastic bottles and canned food.
Despite the new study of BPA, which FDA in 2010 said it had "some concern" over regarding its impact on the neurological and reproductive system of infants, babies and young children, FDA stuck to the position advanced by industry for several years now: that it needs compelling scientific evidence to justify new restrictions on BPA. The agency also objected to animal studies of BPA's effects, saying those findings cannot be applied to humans, and that other studies were flawed for various reasons.
Canned food and plastic cup and bottle manufacturers have used BPA in the resin sealants that prevent contamination and spoiling since the 1950s, and the practice is approved by the FDA. Nevertheless, many scientists are concerned, especially in light of the fact that about 90 percent of Americans have in their bodies traces of BPA, which has been found in breast milk, saliva, urine, amniotic fluid and umbilical cord blood. BPA has been associated with many health problems, including breast cancer, prostate cancer, insulin resistance, reproductive defects, diabetes and miscarriages.
The government is spending $30 million to conduct additional studies on BPA's impact on humans, but not everyone is willing to wait for the Obama administration, which
caved-in
to industry lobbying on BPA in 2010. Eleven states, including most recently California, now prohibit the sale of baby bottles and sippy cups made with BPA, and some companies have removed BPA from their products, including Wal-Mart, Toys "R" Us, all six leading makers of baby bottles in the U.S., and Campbell's Soup.
"The FDA is out-of-step with scientific and medical research," Dr. Sarah Janssen, senior scientist for public health at the
Natural Resources Defense Council
told the Associated Press. "This illustrates the need for a major overhaul of how the government protects us against dangerous chemicals."
-Matt Bewig
To Learn More:
White House Delayed Regulation of Controversial Chemical after Meeting with Lobbyists (by Noel Brinkerhoff, AllGov)