FCC Reins In Billion-Dollar Prison Phone Call Industry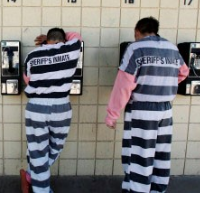 (photo: Charlie Riedel, AP)
Inmates' families will get a break from wildly inflated telephone charges now that the federal government has put new restrictions on the billion-dollar prison telephone business.
The Federal Communications Commission (FCC) on Thursday approved a plan that drastically cuts how much companies such as Securus Technologies and Global Tel-Link charge for phone calls by inmates to their families and others.
The FCC is capping calls at 11 cents per minute for a 15-minute phone conversation from state and federal prisons, starting next year. Jails would be allowed to charge a bit more, depending on their size, but in no case will it be more than 22 cents a minute. In some jurisdictions, calls had cost up to $14 a minute.
The FCC had already capped interstate prison calls and this action tightened those regulations and applied them to intrastate calls as well.
"For the majority of those faced with these bills, high payments are their reality and incredible sacrifices unimaginable to most of us are being made," Mignon Clyburn, a Democratic FCC commissioner who spearheaded the action, said according to The Atlantic. "This is untenable, egregious, and unconscionable."
One change the FCC did not tackle was prohibiting phone companies from giving prisons "site commissions," which have been seen as kickbacks for allowing certain firms to win contracts. The FCC said it "strongly discourages" the practice, but won't ban it. These commissions totaled $460 million in 2013.
Prison phone companies claim the new rules will deny them "fair" compensation and say they might sue the FCC.
- Steve Straehley, Noel Brinkerhoff
To Learn More:
FCC Slashes Prison Phone Rates (by Brendan Sasso, The Atlantic)
The FCC Aims to Lower Cost of Prison Phone Calls in Historic Vote (by Brian Dolinar, Truthout)
The Unnecessarily High Cost of Inmate Calling Charges Is an Injustice (by Cory Booker and Mignon Clyburn, Huffington Post)
Fact Sheet: Ensuring Just, Reasonable, & Fair Rates for Inmate Calling (Federal Communications Commission)
Two Companies Rake in Big Profits from Billion-Dollar Prisoner Phone Call Industry (by Ken Broder, AllGov)