Fargo Police Dept. Shuns Weaponized Drones Approved for Police by North Dakota
Saturday, September 05, 2015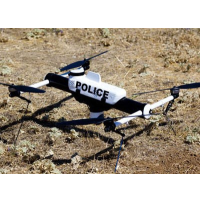 (photo: AeroVironment, Inc.)
Police in Fargo are saying "no thanks" to using weaponized drones, even though the state legislature in North Dakota authorized it.
Last month, North Dakota lawmakers made their state the first to allow police to employ drones using so-called non-lethal weapons, such as rubber bullets, pepper spray, tear gas, sound cannons, and Tasers.
The police department in Fargo, the state's largest city, has no intention of using drones that carry weapons, or to conduct surveillance. Fargo police Lt. Michael Mitchell said his department is "perplexed, because we don't see many reasons why we would use such technology," according to Courthouse News Service.
"It can take over two years to get FAA certification just to fly these things. It may be something for the long range, but for now we aren't even looking at it," Mitchell said.
As Fargo police see it, drones might be useful for search and rescue operations to save "a lot of man hours, but the Fargo Police have no intention of weaponizing drones or using them for surveillance, especially since we live in such a rural area."
"Non-lethal" is a bit of a misnomer for the weapons the North Dakota legislature is allowing on drones. Although rubber bullets and Tasers are designed not to kill, they do inflict deadly injuries on occasion.
-Noel Brinkerhoff
To Learn More:
Police See No Need for Drone Weapons (by Levi Lass, Courthouse News Service)
Local Law Enforcement Discuss Using Weaponized Drones, "We Don't Know What the Future Holds" (by Nicole Johnson, Fargo Valley News Live)
North Dakota becomes First State to Allow Police to Weaponize Drones (by Danny Biederman and Noel Brinkerhoff, AllGov)
North Dakota: The State that Loves Drones (by Steve Straehley, AllGov)