North Dakota becomes First State to Allow Police to Weaponize Drones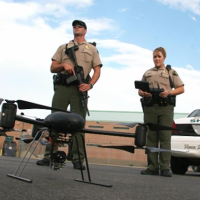 Police with one of their department's drones (photo: Mesa County Sheriff's Office)
A little legislative hijacking has resulted in North Dakota becoming the first state in the nation to authorize law enforcement to put certain weapons on their drones.
When state Representative Rick Becker introduced House Bill 1328 in the legislature, the bill called for banning all weapons on police drones, while also requiring police to obtain a search warrant from a judge before using drones to search for criminal evidence.
Then, a pro-police lobbyist, Bruce Burkett of the North Dakota Peace Officers Association, convinced other lawmakers to amend HB 1328 so it limited the ban to only lethal weapons on drones. That amendment allowed "less than lethal" weapons on drones, including rubber bullets, pepper spray, tear gas, sound cannons, and Tasers.
Becker, a Republican, was not happy with the change to his bill. "This is one I'm not in full agreement with. I wish it was any weapon," he said at a hearing in March, according to the Daily Beast. "In my opinion there should be a nice, red line: Drones should not be weaponized. Period."
Justin Glawe at the Daily Beast noted that even "less than lethal" weapons can result in death. "Bean bags, rubber bullets, and flying tear gas canisters have also maimed, if not killed, in the U.S. and abroad," Glawe wrote. Police Tasers have also proven to be lethal, killing at least 39 people in the U.S. so far this year, according to The Guardian.
The state's Grand Forks County Sheriff's Department has been using drones for at least three years, having been loaned two by a California drone manufacturer. The sheriff's office refused to reveal the number of drone missions it has flown until it was pressured to do so by the state's attorney general's office following a media request. It was revealed it has flown more than 400 drone missions from 2012 to 2014.
The lack of outcry in North Dakota over the legislation allowing the arming of police drones is indicative of drones' acceptance in the state. "In other words, limit civil liberties so Big Drone can spread its wings," wrote Glawe. "Drones in North Dakota are a profitable enterprise in a state hit hard by the oil bust. Companies that market machines for agricultural and commercial use have been popping up in industrial parks on the outskirts of Grand Forks for the better part of the last three years. The university, one of the city's largest employers, even offers a four-year degree in drones."
"The Air Force has partnered with the private sector to create a drone research and development park, too," added Glawe. "Grand Forks is probably the only place in the country where you'll find advertisements for Predator drones, the operators of which are trained and stationed at the nearby Air Force base."
"The American Civil Liberties Union argues that police drones are a new kind of threat to that compromise between security and liberty," wrote Alan Pyke at ThinkProgress. "The group supports laws to restrict law enforcement's use of them, and makes a compelling case that absent such restraints the technology is fundamentally at odds with the Bill of Rights."
-Danny Biederman, Noel Brinkerhoff
To Learn More:
First State Legalizes Taser Drones for Cops, Thanks to a Lobbyist (by Justin Glawe, Daily Beast)
North Dakota Allows Cops To Arm Their Drones With Tasers And Tear Gas (by Alan Pyke, ThinkProgress)
North Dakota: The State that Loves Drones (by Steve Straehley, AllGov)