80% of U.S. Antibiotics Go to Farm Animals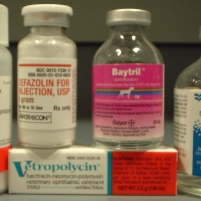 The FDA released the information at the request of U.S. Representative Louise Slaughter (D-New York), who plans to reintroduce legislation that would limit the drugging of animals in order to preserve the effectiveness of antibiotics in humans.
"Today I confirmed an alarming number that should shock all of us: 4 out of 5 antibiotics sold in this country were for use on animals, many of whom are not even sick, and that is dangerous to all of us," said Slaughter.
-Noel Brinkerhoff