Executions in U.S. Drop to 20-Year Low
Monday, December 22, 2014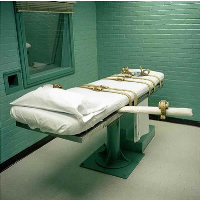 Execution chamber in Texas
There were only 35 executions in the United States in 2014, continuing a trend that has seen state-sanctioned killings of inmates generally decline in the past 15 years.
The peak of executions since the Supreme Court ruled them legal in 1976 came in 1999, when 98 inmates were killed by order of government officials. The numbers have mostly fallen since then; there were an average of 71.1 executions a year from 1997 to 2005, according to The Washington Post. Between 2006 and 2016, the average had fallen to 44.3 per year.
The last time there were fewer than 35 executions in a year was 1994, when there were 31 after a steady climb since the death penalty was reinstituted. In 1995, the number of killings jumped to 56.
There are several reasons for the drop in executions. First, fewer states are killing prisoners. There are only 32 states where it's legal and some of them execute prisoners rarely, if at all. In 2014, 80% of the executions were carried out by three states: Texas, the perennial leader; Missouri; and Florida. Only seven states executed anyone.
There have also been concerns about killing innocent prisoners. Seven death row inmates were exonerated in 2014. In addition, problems with lethal injection where prison officials have substituted other "cocktails" of drugs in place of now-unavailable effective alternatives have caused several inmates to suffer prolonged agony before dying. And perhaps most importantly, the violent crime rate has been on a steady decline since 1993.
Since the death penalty was reinstated in 1976, there have been 1,394 executions in the United States, 518 of them in Texas. There are currently more than 3,000 people on Death Row.
-Steve Straehley
To Learn More:
Executions Continued to Drop In 2014 — As Did the Crime Rate (by Philip Bump, Washington Post)
How the Death Penalty Continued Its Slow, Steady Decline in 2014 (by Mark Berman, Washington Post)
Death Row U.S.A.: Fall 2014 (Criminal Justice Project of the NAACP Legal Defense and Educational Fund) (pdf)
Death Penalty Capital of U.S.: Harris County, Texas (by Noel Brinkerhoff and Steve Straehley, AllGov)
Majority of Executions Come from Just 2% of Counties (by Noel Brinkerhoff, AllGov)