Equal Employment Opportunity Commission Rules that 1964 Civil Rights Act Protections Apply to Gay Men and Lesbians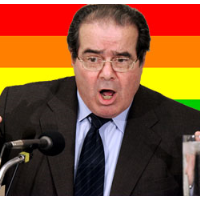 Justice Antonin Scalia (photo: Kevin Lamarque, AP/Photo illustration: Steve Straehley, AllGov)
The U.S. Equal Employment Opportunity Commission (EEOC) has ruled (pdf) that discrimination on the job based on an employee's sexual orientation is illegal under the Civil Rights Act of 1964 (pdf).
The EEOC's ruling was based at least in part on a Supreme Court decision written by none other than Justice Antonin Scalia. In a 1997 case in which a man claimed sexual harassment by other men, Scalia held for the plaintiff, writing "Statutory prohibitions often go beyond the principal evil to cover reasonably comparable evils, and it is ultimately the provisions of our laws rather than the principal concerns of our legislators by which we are governed."
That reasoning has been used to expand anti-discrimination to sexual and gender minorities in the past and the EEOC is using it here to ensure that employees are protected regardless of their sexual orientation. The ruling arose from the case of an air traffic controller who was passed over for a permanent position with the Federal Aviation Administration because he was gay.
Those whose rights have been violated may still have to sue to have the EEOC ruling enforced, and courts are not bound to follow independent agencies' rulings. However, courts usually defer to the agencies' decisions.
"Courts wrestling with this question don't have to feel that they're first. There's a government agency with expertise in anti-discrimination law that has taken this position," Helen Norton, a professor at the University of Colorado Law School, told The New York Times.
The ruling should provide protections for those who "can be married at 10 a.m., fired from your job by noon and evicted from your home by 2 simply for posting that wedding photo on Facebook," as Chad Griffin, the president of the Human Rights Campaign, said in a television interview, according to the Times.
-Steve Straehley
To Learn More:
U.S. Agency Rules for Gays in Workplace Discrimination (by Noam Scheiber, New York Times)
Thank Scalia for the Revolutionary EEOC Workplace Discrimination Decision (by Mark Joseph Stern, Slate)
Complainant v. Anthony Foxx, Secretary, Department of Transportation (EEOC) (pdf)
First Settlement in Federal Employment Case for Non-Government Discrimination against Transgender Employee (by Noel Brinkerhoff, AllGov)