Duke Energy Admits Guilt in Coal Ash Spill Case
Wednesday, February 25, 2015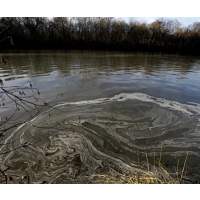 Dan River polluted with coal ash, 2014 (AP photo)
The nation's largest energy company has admitted it was guilty of polluting a North Carolina river and other locations with coal ash in recent years.
Duke Energy pleaded guilty in a federal court to charges brought Friday by the U.S. Department of Justice for allowing 70 miles of the Dan River to become contaminated with coal ash following a spill in February 2014 from the company's holding ponds and other environmental disasters caused by the company's coal-fired plants.
Duke agreed to pay $68.2 million in fines and restitution and $34 million for community service and mitigation projects for the Dan River mess and for other unauthorized discharges at its Moncure, Asheville, Goldsboro and Mt. Holly coal plants in North Carolina.
Federal prosecutors said the company's dumping of coal ash occurred for five years, resulting in pollution that critics say contains toxic heavy metals like arsenic, selenium, chromium and mercury.
The utility was charged (pdf) with nine misdemeanor counts of violating the Clean Water Act.
Duke has promised to not pass on the cost of the settlement to its ratepayers and instead will let its shareholders take the financial hit on the deal.
Environmental groups praised the settlement. "It's not just a slap on the wrist," Kemp Burdette of Cape Fear River Watch told the Associated Press. "A $100 million fine is a significant one. It confirms what we've been saying all along. It's good to finally have somebody say, 'You're right. Duke was illegally polluting waterways across North Carolina and it was criminal. It wasn't an accident.'"
-Noel Brinkerhoff
To Learn More:
Duke Energy Pleads Guilty In Coal Ash Spill (Corporate Crime Reporter)
U.S. Charges Duke With Illegal Pollution From 5 Coal Ash Dumps (by Michael Biesecker and Mitch Weiss, Associated Press)
Coal Giant Dumped Waste Directly Into Rivers, Now Faces Criminal Charges (by Katie Valentine, Climate Progress)
United States v. Duke Energy (U.S. District Court, Eastern North Carolina) (pdf)
EPA Declines to Classify Coal Ash as Hazardous Waste (by Steve Straehley, AllGov)
Duke Energy CEO Wants Customers to Pay for Pollution Pond Cleanups (by Noel Brinkerhoff, AllGov)
Which Companies Helped Fund the Democratic and Republican Conventions? (by Noel Brinkerhoff, AllGov)