Domestic Violence Victims Evicted for being "Nuisances"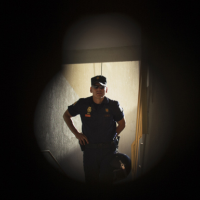 (AP photo)
As if getting beaten up by a husband or boyfriend isn't bad enough, some towns in Wisconsin, Pennsylvania, New York State and elsewhere have adopted local ordinances that punish victims for being nuisances.
The American Civil Liberties Union (ACLU) says in a new report that the New York towns of Binghamton and Fulton and others like them are using nuisance ordinances, crime free ordinances, or disorderly house laws that "deter crime victims from reporting crime and frequently lead to evictions or other harmful penalties for victims who do call 911 in an emergency."
One Binghamton resident, the ACLU reported, was told to get out by her landlord after her boyfriend attacked her and came back again and got into a fight with someone else at the apartment complex.
After talking to other residents and victims in these towns, the ACLU discovered officials "routinely identified incidents of domestic violence as nuisance conduct and designated properties as nuisances under local ordinances on the basis of these incidents."
Victims also were "disproportionately identified and cited" for being a nuisance compared to other categories of nuisance conduct. Not surprisingly given the disproportionate application of the nuisance laws, domestic violence turned out to be the single largest category of enforcement under both Binghamton's points-based ordinance and Fulton's three-strike ordinance.
"Domestic violence accounted for 38% of all points imposed in Binghamton's ordinance enforcement actions. Domestic violence made up nearly half, or 48%, of incidents included in nuisance enforcement warnings issued by Fulton's police chief," the report said.
Critics say that the landlords who do the evicting are often victims as well, forced by police to kick out their tenants or face punishment. Police, say these critics, should be focusing on the perpetrators of the violence, not residents who are their victims or landlords who are caught in the middle.
In one incident in a Pennsylvania town, a woman who had been warned by police not to make another 911 call was violently attacked by her live-in boyfriend, leaving her with a four-inch stab wound in her neck and gash in her forehead. Her neighbor called 911 in spite of her pleas that no call be made; she was rushed by helicopter for emergency treatment. Police demanded that her landlord evict her within 10 days under threat of losing his rental license.
"These laws threaten citizens' fundamental right to call on the police for help," Harvard sociologist Matthew Desmond told The New York Times.
Race has also factored into these evictions. One study in Milwaukee found that that rental properties in primarily black areas were disproportionately singled out for evictions based on reports of domestic violence. Milwaukee recently changed its laws to forbid such evictions, but battered-women advocates say it may not help much, given that police aren't always aware of the abuse.
Adding insult to injury, "legal experts say the laws can give tenants the lasting stain of an eviction record without due process," wrote the Times' Erik Eckholm.
- Danny Biederman, Noel Brinkerhoff
To Learn More:
Silenced: How Nuisance Ordinances Punish Crime Victims in New York (American Civil Liberties Union) (pdf)
Victims' Dilemma: 911 Calls Can Bring Eviction (by Erik Eckholm, New York Times)
I Am Not a Nuisance: Local Ordinances Punish Victims of Crime (American Civil Liberties Union)