Bureau of Prisons Fights against Early Release of Dying or Incapacitated Prisoners
Tuesday, December 31, 2013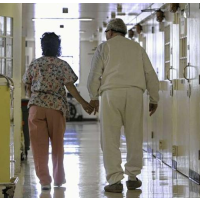 (photo: Rich Pedroncellia, AP)
After decades of showing little mercy, the Federal Bureau of Prisons (BOP) is being pressured by prisoner advocates and even the nation's top law enforcement official to grant more early releases on compassionate grounds.
Historically, BOP officials have mostly rejected requests from inmates to leave prison before their sentences are up due to terminal illnesses afflicting them or their immediate family members.
Over one 20-year period (1992-2012), BOP asked the courts to consider motions for early release only two dozen times a year on average, according to a report last year from Human Rights Watch.
That's out of a federal prison population of more than 200,000. The bureau has blocked most requests that are based on compassionate release.
"Justice sometimes requires compassion, even for people who have broken the law," Jamie Fellner, senior advisor to the U.S. Program at Human Rights Watch and co-author of the report, said in a prepared statement. "But prison officials prevent judges from deciding when compassion requires a sentence reduction. This is unfair to the prisoners and costly to the country."
Many lawyers and prisoner advocates have echoed this sentiment, accusing BOP officials of acting as judges by not passing compassionate release cases onto the courts.
"The Bureau of Prisons should be letting judges have the opportunity to decide every time extraordinary and compelling reasons come to their attention, and [they are] not doing that," federal public defender Steve Sady, who has represented clients requesting early release, told ProPublica. "We believe that, under the statute, the sentence is for the judge to decide."
Many advocates for compassionate release are skeptical that the system can be reformed.
Prison officials' "job is to keep people locked up," Families Against Mandatory Minimums general counsel Mary Price told ProPublica. "Identifying people who should no longer be incarcerated is just not what they do."
"I don't believe it's going to change at all," lawyer Marc Seitles told the news group. "It's still the same people making decisions." One of Seitles' clients is an inmate who had been denied early release in spite of being afflicted with terminal cancer.
Sady and others are hoping Attorney General Eric Holder's involvement in the issue will bring about change. In August, Holder said the Department of Justice would expand criteria for who can apply for early release.
The new guidelines (pdf) state that compassionate release can be granted to prisoners who have terminal illnesses or have debilitating conditions. Furthermore, inmates can also apply if they serve as caregivers for ailing family members.
Even elderly prisoners who aren't terminally ill or disabled can apply for early release, according to the new policy.
Holder says expanding compassionate release can help reduce the ballooning federal prison population, which has expanded by nearly 800% since 1980. Thousands of these inmates are now seniors, whose care can cost twice as much as non-elderly inmates.
Initial figures indicate BOP may be starting to change its position on compassionate release. ProPublica reported that the bureau had approved and passed along 50 such requests to judges this year, as of October 29. This is more than what was reported for all of 2012 (39) and 2011 (29).
There is no way to know, however, if the rate of approvals has increased, since BOP hasn't released data indicating the number of inmates who have applied. Only recently did the Bureau begin to track inmate early-release requests, and that is because they were criticized for failing to do so by a recent Inspector General report (pdf). That report also indicated that most inmates aren't even aware of the program's existence.
-Noel Brinkerhoff
To Learn More:
How Bureaucrats Stand in the Way of Releasing Elderly and Ill Prisoners (by Christie Thompson, ProPublica)
US: Prison Officials Thwart Compassionate Release (Human Rights Watch)
The Answer is No (Human Rights Watch)