Doctors and Scientists Call for Aggressive Regulation of Toxic Household Chemicals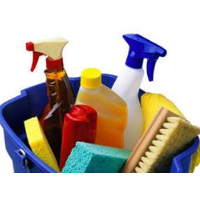 (photo: Getty Images)
By Roni Caryn Rabin, New York Times
Every day, children and adults are exposed to a variety of chemicals found in common household items. Now a growing body of research suggests that many of these chemicals — which are used to make plastic more flexible, fruits and vegetables more abundant and upholstery less flammable — may also pose a threat to the developing brain.
While the link between early chemical exposure and neurodevelopment disorders in children remains a matter of scientific debate, a coalition of top doctors, scientists and health advocates is calling for more aggressive regulation. The goal is to protect expectant mothers, infants and children from neurotoxic chemicals by stepping up efforts to curb air pollution, remediate old lead pipes, phase out certain pesticides, ban endocrine-disrupting chemicals used in food packaging and plastics and come up with a plan for getting rid of furniture laden with fire retardants.
The scientists note that neurodevelopmental disorders are complex and have multiple genetic, social and environmental causes. But most chemicals in use today were not adequately tested for safety before being allowed on the market, said Dr. Jeanne Conry, an obstetrician-gynecologist and a past president of the American College of Obstetricians and Gynecologists, which is part of the coalition.
"Before we can prescribe medicine, we have to prove it's safe," she said. "So how come with the chemical industry, we assume everything is safe and have to prove there's harm?"
On Friday the coalition endorsed a first-of-its-kind consensus statement called Project Tendr, which stands for Targeting Environmental NeuroDevelopmental Risks. The statement was published in the scientific journal Environmental Health Perspectives, and related articles are being published over the next few months in endocrinology, nursing, pediatrics and epidemiology journals.
"We as a society should be able to take protective action when scientific evidence indicates a chemical is of concern, and not wait for unequivocal proof that a chemical is causing harm to our children," the statement says.
The call to action comes just one week after President Barack Obama signed into a law a much-debated overhaul of the nation's 40-year-old toxic chemical rules. Critics say the changes do not go far enough, and the plan for testing some 64,000 chemicals is far too slow — just 20 chemicals at a time. And the new law does not cover pesticides, one of the largest sources of childhood chemical exposures.
An official with the American Chemistry Council, which represents companies that make flame retardants, plastics and phthalates, said the new law already addresses the concerns raised by the Tendr coalition. The rules give more authority to the Environmental Protection Agency and require it to take into account vulnerable populations like pregnant women, children and older people, she said.
"This new law will give Americans greater confidence that chemicals in commerce are being used safely," the American Chemistry Council said in a statement.
The Tendr coalition includes pediatric neurologists, several minority physician associations, nurses, learning disability advocacy groups, environmental organizations and the Endocrine Society. Linda Birnbaum, director of the National Institute of Environmental Health Sciences and the National Toxicology Program, has also signed the statement.
The bottom line: The group wants the chemical industry to prove a chemical is safe, rather than waiting on the medical and scientific community to prove it is harmful. "We're saying, shift the burden of proof," Conry said.
Wading into a potentially contentious issue like regulation of chemicals is unusual for the ACOG, but the group has been alarmed by rising rates of neurodevelopmental disorders and other health problems in children.
National health surveys show that 15 percent of children had a developmental disability in 2008, up from 12.8 percent in 1996. Researchers say changes in diagnostic criteria and a greater awareness of developmental disorders including autism, attention deficit disorders and other learning disabilities may explain some of the increase in rates but not all of it.
The chemicals singled out by the coalition include:
Organophosphate pesticides: In one study, women who were pregnant when they lived near areas where these pesticides were in use were as many as three times more likely to have a child who developed autism or other developmental disorders. Janet Collins, a senior vice president at CropLife America, which represents pesticide manufacturers, said the studies show only an association between pesticide levels and autism disorders, not a cause-and-effect relationship.
Flame retardants: Recent studies have found that children exposed prenatally to higher levels of flame retardants had lower IQs. Flame retardants are used in fabric and upholstery padding, computers and baby products.
Lead: The government has banned leaded gasoline and household paint, but old homes and pipes often still contain lead that gathers in dust and leaches into water. No level of exposure is considered safe.
Phthalates: Prenatal exposure has been linked in studies to problems with attention and intellectual deficits. The Consumer Product Safety Commission has banned the use of six phthalates in toys and child care products, but they are still used in all kinds of consumer products.
Combustion-related air pollutants: Prenatal and early childhood exposure to some pollutants has been linked with preterm birth and low birth weight, as well as developmental delays.
"The goal is not to demonize every chemical on the market," said Heather B. Patisaul, a professor at North Carolina State University at Raleigh. "We need to find the group that are harmful, and figure out why, and develop new chemicals that are significantly less harmful."
A coalition of doctors, scientists and health advocates says you may be able to reduce your overall exposure to toxic chemicals by taking the following steps:
-Reduce pesticide exposure by choosing organic strawberries, apples, nectarines, green beans, celery and spinach.
-Choose seafood low in mercury like salmon, sardines and trout.
-Breast-feed your baby if you can; if you use formula, make sure the water is lead-free.
-When buying furniture with padding like a high chair, sofa or mattress, ask for products that are labeled free of toxic flame retardants.
-Avoid exposing the family to tobacco smoke, wood smoke from fireplaces and stoves, exhaust from idling cars and fumes from stoves and grills.
-If you're putting in a new floor, choose either phthalate-free vinyl flooring or wood, bamboo or cork.
-Avoid plastic toys, backpacks, lunchboxes and school supplies made of polyvinyl chloride (PVC), which can be a source of phthalates.
-Choose fragrance-free personal care products.
-When using stool softeners, laxatives and other time-release capsules, look for phthalates on the list of inactive ingredients so you can avoid them.
-Use nontoxic alternatives to pesticides in your yard and on your pets.
-Screen your house for lead. If it was built before 1978, lead paint may place your family at risk. If paint is chipping or peeling, it can build up in house dust and stick to children's hands.
-Reduce household dust that may contain lead, flame retardants, phthalates and pesticides. Take shoes off before entering the house and use a doormat to trap dirt outside and inside the doorway. Damp mop, use a HEPA-filtered vacuum cleaner, and dust with a microfiber cloth.
To Learn More:
Bill to Regulate Tens of Thousands of Toxic Chemicals Sent to Obama with Bipartisan Support (by Matthew Daly, Associated Press)
Toxic Chemicals found Transferred from Human Breast Milk to Babies (by Noel Brinkerhoff, AllGov)