Displaying Christian Crosses on Police Cars Supported by Texas Governor
Saturday, February 06, 2016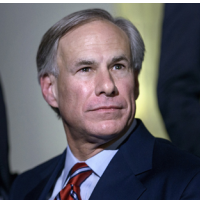 Texas Gov. Greg Abbott (photo: Brendan Smialowski, AFP/Getty Images)
By Jon Herskovitz
AUSTIN, Texas (Reuters) - The governor of Texas supports police putting cross images on their patrol cars, saying they are part of U.S. historical practices, and symbols of service, his office said on Friday.
Governor Greg Abbott, a Republican, offered his support for the crosses in a brief filed to the state's attorney general. He was responding to a sheriff's office in Brewster County that received a complaint about images of a Christian cross with a horizontal thin blue line displayed on its patrol vehicles.
"In addition to its religious significance, the cross has a long history in America and elsewhere as a symbol of service and sacrifice," Abbott wrote, adding in his opinion, the display does not violate U.S. constitutional provisions preventing the establishment of religion.
The governor's office did not respond to a request if Abbott also supported the display of other religious symbols on patrol cars.
Abbott said the cross has been used at revered places including the Arlington National Cemetery to honor the sacrifice of members of the U.S. Armed Forces and on military medals.
"The symbol of the cross appropriately conveys the solemn respect all Texans should have for the courage and sacrifice of our peace officers," Abbott wrote.
At the end of last year, the Brewster County Sheriff asked state officials if his deputies in the sprawling and sparsely populated west Texas county could keep the cross decals displayed on the rear windows of their patrol vehicles.
The request followed a complaint by the Freedom From Religion Foundation which called on the sheriff to remove the crosses, arguing no government official has the right to promote his or her religious belief on government property.
"Whether it is a cross, a star and crescent, or a pentagram, law enforcement must remain neutral on matters of religion in order to foster public confidence in their impartiality," the nationwide group that promotes the separation of church and state, said in a statement.
To Learn More:
Crosses on Government Property Stir Controversy (by Noel Brinkerhoff and Danny Biederman, AllGov)
Federal Judge Rules Lake Elsinore's Ballpark War Memorial with Crosses Is Unconstitutional (by Ken Broder, AllGov California)
Two L.A. County Supervisors Want to Put a Cross Back on the Official Seal (by Ken Broder, AllGov California)
U.S. Judge Reluctantly Says Mount Soledad Cross Must Come Down, but 24-Year-Old Case Isn't Over (by Ken Broder, AllGov)