Despite the Fact that less than 1% of Federal Drug Cases were Accompanied by Violence, Frantic Prosecutors Demand Retention of Mandatory Minimum Prison Terms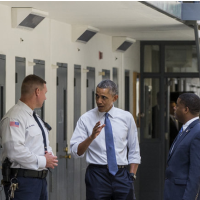 President Obama during visit to El Reno federal prison in Oklahoma (photo: Evan Vucci, AP)
Federal statistics show drug crimes rarely involve violence, and yet federal prosecutors are fighting to retain mandatory minimum sentences in opposition to President Barack Obama's reform plans.
Government statistics compiled by the advocacy group Families Against Mandatory Minimums (FAMM) show only 142 of 20,757 drug cases in fiscal year 2014 – less than 1% – featured violence or threats of violence from drug offenders. The group also says only 16% of federal drug convictions that year involved a weapon.
Still, in the wake of Obama's recent commutation of 46 prison sentences for nonviolent drug offenders and his plans to have Congress change federal sentencing laws, the National Association of Assistant U.S. Attorneys is warning lawmakers and others to stay the course and not make changes.
"The federal criminal justice system is not broken," Steve Cook, the association's president, said in Washington, DC. "What a huge mistake it would be" to change sentencing laws, he added.
Cook also says crime rates will go up if Congress adopts sentencing reforms, and insists "drug trafficking is inherently violent. … If you're not willing to engage in violence [then] you will be out of the business quickly, or worse."
Molly Gill, FAMM'S government affairs counsel, told U.S. News and World Report that Cook's assertion that sentencing reform would result in an increase in the crime rate is a "demonstrably false claim and a shameful scare tactic." She cited statistics in other states, including New York and Michigan, which support her contention.
In Massachusetts, the crime rate has reportedly fallen 50% since the early 1990s. The state's chief justice of its Supreme Court, Ralph Gants, has advocated an end to mandatory minimum sentences for drug crimes, arguing that the policy disproportionately targets minorities and undermines judges' abilities to set fair sentences.
The U.S. has about two million inmates in its prisons, the highest total in the world. Most are held in local or state facilities, while more than 200,000 are held in federal prisons.
Cook's solution is to build more prisons, calling them "a good investment."
-Noel Brinkerhoff, Danny Biederman
To Learn More:
Prosecutors Rally Against Sentencing Reform, Say Build More Prisons (by Steven Nelson, U.S. News & World Report)
Behind The Fight Over Mandatory Minimum Sentences (by Evan Horowitz, Boston Globe)
Obama Agrees With Rand Paul That Mandatory Minimums Should Be Abolished (by Jacob Sullum, Reason)
29 States Roll Back Mandatory Sentencing (by Noel Brinkerhoff, AllGov)
Prosecutors Are behind Inconsistent Federal Sentencing Laws across U.S. (by Noel Brinkerhoff, AllGov)