Despite Admitting to Voting Fraud at last Two Presidential Elections, County Officials in Atlanta get off with just $180,000 in Penalties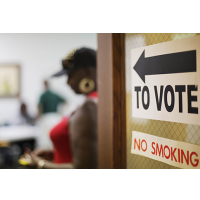 Polling place in Atlanta, Georgia (AP photo)
A key Georgia county with a large population of black voters has been fined $180,000 for breaking state voting laws more than two dozen times.
Fulton County, home to Atlanta and a significant number of black voters who vote Democratic, kept thousands of voters from having their ballots included in the final results of the 2008 and 2012 elections.
Officials "admitted to illegally disenfranchising and misleading voters" and to violations of "improperly rejecting eligible ballots and sending voters to the wrong precincts," according to ThinkProgress. They also failed to comply with voter requests for absentee ballots, provided wrong information to precincts about who was coming to vote and when, and failed to add to the rolls voters who registered in a timely manner, among other violations.
The controversy cost the job of the head of Fulton County's elections office who claimed she was fired for refusing to cover up improper purging of thousands of voters from the rolls in 2012. The names of about 9,600 voters weren't included on registration lists at polling places that year, forcing those individuals to cast provisional ballots.
Georgia has a record of disenfranchising voters of color, including its 2006 enactment of one of the country's strictest voter ID laws. During the past several years, the state reduced the number of early voting days from 45 to 21, and this year made an unsuccessful attempt to cut the 21 days down to 12. This year also saw the cancellation of registration of hundreds of thousands of voters, reportedly in error, resulting in the resignation of the Georgia Director of Elections.
In addition to paying a fine of $180,000, Fulton County promised to spend $200,000 on software to better train their poll workers.
-Noel Brinkerhoff, Danny Biederman
To Learn More:
Georgia County Admits To Illegally Disenfranchising Voters (by Alice Ollstein, ThinkProgress)
State Approves Fulton Election Settlement (by David Wickert, Atlanta Journal-Constitution)
Fulton Elections Board Fined $180,000 For Violating Election Laws (by Sean Keenan, Creative Loafing)
Stonewalling in Georgia: As Election Day Nears, Judge Refuses to Force Secretary of State to Process 40,000 Missing Voter Registrations (by Noel Brinkerhoff, AllGov)
Georgia's Republican Secretary of State Fights to Delay Registration of Tens of Thousands of New Democratic Voters (by Steve Straehley and Noel Brinkerhoff, AllGov)