D.C. Passes Strict—and Unwanted—Gun Law Allowing Concealed Firearms
Monday, September 29, 2014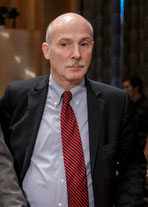 D.C. Council Chairman Philip H. Mendelson (J. Scott Applewhite--AP)
The Washington D.C. City Council unanimously approved legislation that would provide for residents and visitors to carry concealed weapons there even though several of the council members aren't happy about the idea.
The vote last Tuesday to establish a permitting process came as a result of a federal judge declaring the District's laws forbidding civilians to carry weapons unconstitutional because of a 2008 Supreme Court ruling on the subject. The council wanted to ensure that a permitting process was in place before the final hearing on the city's ban is held October 17. The bill must still be approved by Mayor Vincent Gray.
"We really don't want to move forward with allowing more guns in the District of Columbia, but we all know we have to be compliant with what the courts say," council member Muriel Bowser told The Washington Post.
If the council has its way, it will still be difficult to get a gun-carry permit in the District. Applicants must prove they have "good reason to fear injury to his or her person or property" or "any other proper reason for carrying a pistol." They would also have to pass background checks and meet training requirements, according to The Post. The city's police chief would make the call on whether to grant a permit and a review board would be set up to handle appeals.
In addition, firearms could not be carried into government buildings, schools, hospitals, public transportation vehicles, stadiums, arenas or anyplace that serves alcoholic beverages. Nor could they be carried within 1,000 feet of a dignitary under police protection.
The restrictions are too tough, according to the attorney who led the challenge of the gun ban. "The court instructed the city to treat the carrying of handguns as a right rooted in the constitutional interest in self-defense," Alan Gura told The Post. "It's not much progress to move from a system where licenses are not available to a system where licenses are only available if the city feels like issuing them. It's something of a joke."
However, the council member who drafted the legislation, based on laws in Maryland, New Jersey and New York, is confident the law will hold up. "If it looks like we're being cranks . . . and we don't want anyone to get a license, we're in trouble in court," Council Chairman Phil Mendelson said. "I do think this will survive a [legal] challenge."
-Steve Straehley
To Learn More:
D.C. Council Votes, Reluctantly, to Allow Public to Carry Concealed Weapons (by Mike DeBonis, Washington Post)
D.C. Council to Vote on Gun Law Nobody Seems to Like (by Mike DeBonis, Washington Post)
Florida House Worries Law Enforcement by Passing Bill to Allow Carrying Concealed Weapons without Permit during Riots (by Noel Brinkerhoff, AllGov)
Concealed Weapon Permits Skyrocket by 87% in Colorado (by Noel Brinkerhoff, AllGov)