Credit Card Firms Launched Chip Technology to Shift Fraud Liability to Retailers, Claims Lawsuit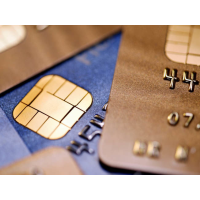 (photo: Getty)
By Nicholas Iovino, Courthouse News Service
SAN FRANCISCO (CN) — Major credit card companies must face claims that they conspired to use the rollout of chip card technology to push billions of dollars in fraud liability onto small businesses, a federal judge has ruled.
Lead plaintiff B & R Supermarket, a Miami retailer, sued four major credit card networks — Visa, Mastercard, American Express and Discover — along with seven banks and standard-setting trade organization EMVCo this past March.
The class action centers around the introduction of the EMV chip, a square chip that functions as a microprocessor which is rapidly replacing the magnetic stripe as the means by which electronic sales transactions occur, according to the plaintiffs.
Because the EMV chip has a more dynamic capacity to register transactions, it is viewed by many as a more secure means of rendering payment, thereby curtailing credit card fraud.
The merchants say that unlike rollouts of chip-card technology in other nations, major credit card networks and banks colluded to force identical requirements and deadlines on U.S. retailers.
To avoid assuming liability for fraud charges, the merchants were required to get chip-card readers, for which they paid $200 to $1,000 per terminal, certified by Oct. 1, 2015.
But the merchants say the card networks control and intentionally delay the certification process, allowing them to reap millions of dollars in profit each month as the burden for covering fraudulent charges is pushed onto small businesses waiting to get their chip readers certified.
In a Sept. 30 ruling, U.S District Judge William Alsup refused to dismiss claims of antitrust, conspiracy, unjust enrichment and unfair competition against the four credit card networks.
However, the judge tossed claims against the issuing banks and EMVCo., finding the plaintiffs failed to adequately show those entities controlled the chip-card rollout process and requirements.
Alsup specifically cited statements made by executives from the major card companies, including MasterCard vice president Krista Tedder, who said that "the card brands are going to delay the liability shift date" at a May 2015 fraud summit.
"Ms. Tedder could not speak so confidently on behalf of all networks save and except for her knowledge of collusion, for true competition would have driven one or more networks to break ranks and offer more competitive terms," Alsup wrote in his 22-page ruling.
He also pointed to a statement made by Visa CEO Charlie Scharf, who told analysts in March 2014 how the card networks, issuing banks, merchants and trade groups got together "in a room" to "work together toward getting much more specific about what we all want to get done by when."
The defendants argued that inviting merchants "in the room" makes allegations of a conspiracy implausible because retailers were the ones affected by the new rules, but the judge disagreed.
"We would expect the giant retail chains to be involved in the planning, for they would be the first to get certified," Alsup wrote. "Run-of-the-mill merchants, like our plaintiffs, are the ones to suffer under the liability shift."
He also found merit in claims that card networks adopted uniform rules on the liability shift at a time when they faced "unique pressures" over policies intended to block merchants from steering customers to use competitors' cards.
In February 2015, a federal judge in New York ruled card networks like American Express could not ban merchants from offering discounts to customers who use cards that are less expensive for retailers to process.
Last week, the Second Circuit overturned that ruling, finding American Express does not violate antitrust laws by barring merchants from steering customers to use lower-cost cards.
The judge said an environment where anti-steering policies were banned gave card companies like Discover a prime opportunity to delay implementation of the liability shift, and in doing so to "reap a competitive windfall as merchants steered customers to Discover cards."
But instead, Discover marched in lockstep with the other card networks to adopt the same rules and timetables on the liability shift.
"That Discover turned its back on this opportunity is hard to explain and is suggestive of collusion," Alsup wrote.
The judge found claims that EMVCo. colluded "sparse" but ordered it to preserve evidence, adding that such evidence may show the trade group was complicit in the alleged conspiracy.
Since the lawsuit was filed, three card companies — Visa, Mastercard and American Express - offered to forgo making uncertified retailers cover fraudulent charges under $25, according to the plaintiffs' first amended complaint.
The merchants' attorney, Alexandra Bernay, and Visa attorney Robert Vizas did not immediately return phone calls seeking comment on Tuesday afternoon.
Bernay is with Robbins Gellar Rudman and Dowd in San Diego.
Vizas is with Arnold and Porter in San Francisco.
To Learn More:
B & R Supermarket, et al., v. Visa, Inc., et al. (U.S. District Court for Northern District of California)