Coal Mine Disaster CEO Indicted 4 1/2 Years Later
Saturday, November 15, 2014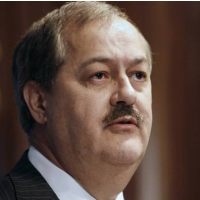 Donald Blankenship (photo: Jacquelyn Martin, AP)
Donald Blankenship ran the West Virginia coal mine in which 29 people died in the nation's worst mining disaster in more than 40 years. Now the former CEO of the company that operated the Upper Big Branch mine in 2010 is facing multiple criminal indictments for allowing the preventable accident to occur.
"As he goes to trial, he will be treated far fairer and with more dignity than he ever treated the miners he employed," Senator Jay Rockefeller (D-West Virginia) told The New York Times. "And, frankly, it's more than he deserves."
Blankenship, who once led Massey Energy Company, was charged by a federal grand jury with four criminal counts for widespread violations of safety rules and deceiving federal inspectors. He faces a maximum of 31 years in prison.
The indictment (pdf) says Blankenship turned a blind eye to hundreds of safety violations "in order to produce more coal, avoid the costs of following safety laws, and make more money." It charges he ordered miners "not to construct certain ventilation controls that would produce more reliable airflow because constructing them diverted time from coal production."
Federal investigators concluded that the explosion that killed the 29 men was preventable.
Alpha Natural Resources, which now owns Massey, paid $209 million in criminal penalties to settle with the Department of Justice, the Times reported.
Two other Massey officials, including the mine's former superintendent, pled guilty to criminal charges brought against them.
-Noel Brinkerhoff
To Learn More:
Ex-Executive Donald Blankenship Is Indicted in Disaster at Coal Mine (by Trip Gabriel, New York Times)
Former Massey CEO Blankenship Indicted (Corporate Crime Reporter)
United States v. Donald Blankenship (U.S. District Court, Southern West Virginia) (pdf)
When Companies Break Environmental Laws, Why are Responsible Individuals not Prosecuted? (by Noel Brinkerhoff and Steve Straehley, AllGov)
Labor Dept. Drastically Cuts Back Legal Oversight of Mine Safety (by Noel Brinkerhoff, AllGov)