Closing of Rural Hospitals across U.S. Upends Communities
Saturday, October 10, 2015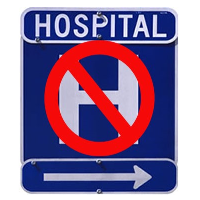 (graphic: Steve Straehley, AllGov)
The United States has lost nearly 60 rural hospitals over the past five years, leaving communities across the country looking for health care services and enduring the fallout from the closures.
University of North Carolina's Cecil G. Sheps Center for Health Services Research has found that 57 rural hospitals have closed since 2010. The total will reach 58 this weekend when the town of Independence, Kansas, will lose its hospital, according to The New York Times.
Hospital closures have an outsized effect on rural communities. "The rural population tends to be older, sicker and poorer than their urban counterparts and are much more reliant on Medicaid and Medicare. So cuts to those programs, along with regulatory burdens on rural hospitals, are hitting these hospitals hard," Diane Calmus, government affairs and policy manager at the National Rural Health Association (NRHA) told Healthcare Dive.
Declining reimbursements, more regulation and a shrinking rural patient base could cause more hospitals to close, according to the Times' Mitch Smith and Abby Goodnough.
Other rural hospitals from Maine to California have also closed. They not only were mainstays of their communities, but also provided jobs and economic stability. Local leaders are trying to figure out how to replace them and mitigate the effects of their closing.
One rural hospital lobbyist says there are no simple answers for stopping this trend. "If it were just one silver bullet, it would have been easier to attack it legislatively and figure it out," Maggie Elehwany, NRHA's chief lobbyist, told the Times. "But it's really death by a thousand different knives."
Independence City Manager Micky Webb told the newspaper that companies considering a move to that city often ask if there's a hospital to care for the local workforce. He's not sure what's going to happen now that he has to tell them no.
-Noel Brinkerhoff, Steve Straehley
To Learn More:
Closing a Hospital, and Fearing for the Future (by Mitch Smith and Abby Goodnough, New York Times)
Surviving the Rural Hospital Closing Challenge (by Nina Flanagan, Healthcare Dive)
To Survive, Rural Hospitals Join Forces (by Michael Ollove, Pew Charitable Trusts)
57 Rural Hospital Closures: January 2010 – Present (Cecil G. Sheps Center for Health Services Research)