Clean Power Plan is Supported by Majority of Americans in 22 States Challenging the Plan
Monday, November 09, 2015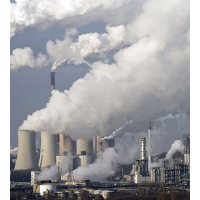 (AP photo)
Attorneys general in 22 states are going against the wishes of a majority of their constituents by suing the federal government over its implementation of the Clean Power Plan.
The plan, which would set strict limits on carbon dioxide emissions from power plants, was finalized last month. Nearly immediately, officials—mostly Republicans—in 26 states sued the federal government to block it. But in only four of those states—Louisiana, North Dakota, West Virginia and Wyoming—is there not a majority of residents who support the plan, according to polling by Yale University. Even in the coal-producing state of Kentucky, 53% of residents support cleaner air. In New Jersey, 73% of its residents support the Clean Power Plan, yet its Republican acting attorney general was among those filing suit to oppose it.
"America's history of political conflict over climate change and the legal challenges to the Clean Power Plan might suggest that the nation is divided over regulating carbon dioxide from coal-fired power plants," Anthony Leiserowitz of Yale University said in a statement to U.S News & World Report. "This study finds the opposite: A large majority of Americans in almost every state supports setting strict emission limits on coal-fired power plants."
Fifteen attorneys general have said they would intervene in favor of the plan, under which emissions from power plants will be cut 32% from 2005 levels, according to ThinkProgress.
-Steve Straehley
To Learn More:
Residents of Most States Suing over Clean Power Plan Support Stricter Controls on CO2 Emissions (by Meteor Blades, Daily Kos)
26 Attorneys General Are Suing The EPA. The Public Only Agrees With Them In 3 States. (by Samantha Page, Think Progress)
Estimated % of Adults Who Think Global Warming is Happening, 2014 (Yale Project on Climate Change Communication)
Climate Change EPA Rule National Survey (Hart Research Associates/Chesapeake Beach Consulting) (pdf)
16 States Looking for a Way Out of the Clean Power Plan (by Noel Brinkerhoff, AllGov)
"We'll be back!" Says Coal Industry after Court Shoots Down its Lawsuit against EPA Clean Power Proposal (by Noel Brinkerhoff and Steve Straehley, AllGov)