Civil Liberty Violations Seen in Police Interrogations of Demonstrators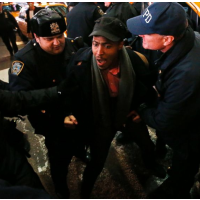 NYPD officers arrest demonstrator during Eric Garner protest (photo: Jason DeCrow, AP)
The New York City Police Department is back to doing something it was told by the courts decades ago to stop: interrogating demonstrators about their political behavior.
At least a dozen people protesting the decision not to prosecute the police who killed Eric Garner were detained by the NYPD. They later told The New York Times that they were questioned about their political associations and other matters related to their involvement in street protests.
The interrogations could have a chilling effect on Americans lawfully exercising their right to protest and may also put the department in violation of a 1985 consent decree that came out of a federal court case, Handschu v. Special Services Division (pdf), which was supposed to end investigations of political activity.
The recent NYPD actions aren't the first time it has skirted the legalities of the Handschu settlement. In 2003, the department was rebuked after its Intelligence Division detectives collected information from antiwar protestors such as their school, their membership in organizations and their involvement in past protests.
The Times' Colin Moynihan wrote that "some civil liberties lawyers say the recent questioning appeared to be substantially similar to the questioning in 2003," with detectives focusing on political involvement, not criminal behavior.
"When the police investigate political affiliations and political activities, that poses a serious threat to First Amendment rights," Christopher Dunn, the associate legal director of the New York Civil Liberties Union, told the Times. "The NYPD should stop this immediately."
-Noel Brinkerhoff
To Learn More:
Questioning of Garner Protesters in New York Renews Concerns about Police Practices (by Colin Moynihan, New York Times)
Chicago Police Accused of Running Secret Interrogation Center (by Noel Brinkerhoff, AllGov)
Supreme Court Rules a Suspect's Silence during Police Interrogation Can be Used against Him (by Noel Brinkerhoff and Danny Biederman, AllGov)