CIA Decides that the CIA Hacking into Members of Congress is not a Punishable Offense
Monday, December 22, 2014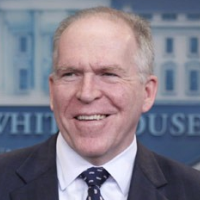 CIA Director John Brennan (photo: ABC News)
A panel appointed by Central Intelligence Agency (CIA) Director John Brennan to assess blame for the CIA's intrusion into Senate Intelligence Committee computers has—no surprise—found that those who broke into the computers shouldn't be punished.
The handpicked committee, composed of three CIA officers; Robert F. Bauer, who served as White House counsel during President Barack Obama's first term; and chairman Evan Bayh, a former Democratic senator from Indiana who served on the Senate Intelligence Committee, said the three CIA technology officers and two lawyers who participated in the computer hacking should not be punished.
The break-in came as Intelligence Committee staffers were working on a report on the CIA's detention and interrogation program during the George W. Bush administration's management of the Iraq and Afghan wars. The report, the executive summary of which was released earlier this month, blasted the CIA for its use to torture on detainees, many of whom were innocent.
Those investigated by the CIA panel claimed they'd been given the go-ahead to break into the Senate computers by Brennan himself. Brennan still has not told the Senate who approved the hacking.
"What did he know? When did he know it? What did he order?" Senator Carl Levin (D-Michigan), a member of the Intelligence Committee, said, according to The New York Times. "They haven't answered those basic questions."
Whoever ordered the intrusion, it came after the CIA found that the Senate staffers had accessed a report ordered by then-Director Leon Panetta in 2009 that contradicted the agency's official position on its torture program. The CIA hadn't meant for the staffers to find that report among the information it was searching in order to do its own report on agency torture.
Bayh's committee hasn't released all of its findings and it may well yet criticize the agency for its intrusion into another branch of government. But those who actually did the deed are getting off scot-free.
-Steve Straehley
To Learn More:
Panel to Advise Against Penalty for CIA's Computer Search (by Matt Apuzzo and Mark Mazzetti, New York Times)
CIA Admits it Spied on Senate Intelligence Committee and Lied about It (by Noel Brinkerhoff and Steve Straehley, AllGov)
Would the CIA Lie to Congress? Of Course! (by Noel Brinkerhoff, AllGov)
Senator Feinstein Accuses the CIA of Spying on Congress with Impunity (by Ken Broder, AllGov California)