Century-Old Hazardous Waste Site, Home to 1917 Pesticide Plant, Finally Gets EPA Attention
Thursday, October 01, 2015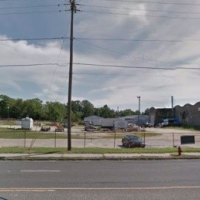 The former Kil-Tone site in New Jersey (photo: Google Street View)
The Environmental Protection Agency (EPA) has added to its list of Superfund toxic cleanup sites a century-old location that used to produce lead-based pesticides, the leftovers of which are still polluting the soil.
From 1917 to 1926 the Kil-Tone Company in Vineland, N.J., manufactured pesticides using arsenic and lead. The property was sold to Lucas Kil-Tone Co. in 1926 and the manufacturing of pesticides at the property continued until at least 1933.
But it wasn't until two years ago that the New Jersey Department of Environmental Protection (DEP) tested the soil in the area and found "high concentrations of arsenic and lead," according to Courthouse News Service. DEP's test results were enough for the EPA to consider making the property a Superfund site.
The EPA said chemicals from the site might have leached into the Maurice River and Union Lake, which is 7 miles from the property.
Arsenic can cause cancer as well as other serious health problems, while lead is a toxic metal that can damage the nervous system and produce other adverse health effects.
The director of the New Jersey Sierra Club, Jeff Tittel, criticized the DEP for waiting so long to test the former home of a pesticide manufacturer. "The failure to act all these years has even contributed to more contamination to spread and could lead to health problems since arsenic is a carcinogen," Tittel said in a statement. "The DEP dropped the ball and we are glad the EPA has picked it up."
DEP spokesman Lawrence Hajna defended his agency, noting the site "was never on anybody's radar."
"Back in the '30s, nobody paid much attention to [Superfund] lists, obviously, or putting locations on a contaminated site list," Hajna said.
The site is now owned by a sign and crane company, but once housed Progresso Foods, according to news reports. A DEP spokesman said the current owner shouldn't be affected as long as the company isn't using well water.
-Noel Brinkerhoff
To Learn More:
EPA Takes on Century-Old N.J. Pesticide Plant (by Nick Rummell, Courthouse News Service)
EPA Proposes to Add N.J. Pesticides Manufacturing Facility to Superfund List of Hazardous Waste Sites (U.S. Environmental Protection Agency)
EPA Strikes Final Deal at Superfund Site after Three Decades of Wrangling (by Ken Broder, AllGov California)