California County Fights Chevron and School District to Defend Voter-Approved Law Limiting Oil Production
Monday, December 19, 2016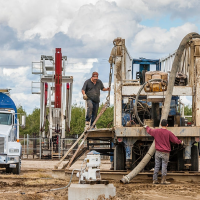 Fracking operation in Monterey County, CA. (photo: Educational Images/Getty Images)
By Jon Chown, Courthouse News Service
MONTEREY, Calif. (CN) – Chevron, energy companies and a school district sued Monterey County last week, challenging a law voters approved on Nov. 8 that bans hydraulic fracturing and limits oil production in the coastal county.
Two lawsuits Wednesday asked the Superior Court to declare that the voter-approved initiative, Measure Z, attempts to pre-empt federal and state laws on oil and gas production and takes property without proper compensation, in violation of the federal and state constitutions.
Chevron, Key Energy Services, Ensign United States Drilling, San Ardo Union Elementary District and five people filed one complaint. Aera Energy, which leases mineral rights for more than 2,500 acres in the San Ardo Field in south Monterey County, about 30 miles north of Paso Robles and 20 miles south of King City, filed the other complaint.
Monterey County Counsel Charles McKee said he'd expected lawsuits, and noted their probability while writing the analysis of Measure Z that appeared in the voters' guide. These two, he said, probably won't be the last.
"We knew about the potential for lawsuits as soon as Measure Z qualified for the ballot and we intend to defend it vigorously," McKee said. "If a measure is valid on its face, and as far as we can tell this is, then we have an obligation to defend it."
The San Ardo Field was discovered in 1947. It is the 13th largest oil field in California and the 46th largest in the United States. The oil is "heavy" and has the consistency of ketchup, but by injecting steam it is heated and extracted more easily.
Chevron is the largest operator on the site, producing about 11,000 barrels of oil per day. An oil well at the San Ardo Field typically draws about 10 to 20 times as much water as oil, and in 2006 Chevron built a reverse osmosis facility to purify 45,000 barrels of water a day. About 75 percent of the water is sent to recharge basins, where it slowly drains back into the aquifer through a series of constructed wetlands. The remaining water is concentrated brine and is pumped deep underground.
Measure Z, presented to voters as a ban on fracking and risky oil operations to protect the region's water, passed with 56 percent approval on Nov. 8. It amends Monterey County's land use plans to prohibit fracking and other procedures deemed a danger to groundwater. It also prohibits drilling new oil and gas wells.
But according to Chevron's lawsuit, fracking is not even used in Monterey County, and the impacts of Measure Z are much broader. It says the initiative's gradual phase-out, prohibition of wastewater injection and rules for storing it would kill its operations, and the ban on new wells would reduce production by about 20 percent a year.
"If the county prevents the drilling of additional wells, the yield from the current wells will continually decrease until oil and gas production at the San Ardo Oil Field will no longer economically viable," Chevron says in its complaint.
Should that happen, San Ardo Union Elementary School District stands to lose a lot of money. That's why it joined the lawsuit, said Superintendent Catherine Reimer.
"There's a lot of poverty in the area," Reimer said.
The district serves 100 students from kindergarten through eighth grade, all at one school. Reimer said 97 percent of the students qualify for free or reduced-price lunches. The district is funded primarily through property taxes and 89 percent of it comes from the oilfield. Measure Z would put even more stress on a tight budget.
"We just successfully passed a bond on the ballot, but will not be able to implement that bond to improve this aging facility because the property taxes would not be there if Measure Z is implemented," Reimer said.
She said she is not worried about backlash from voters, because fighting Measure Z is best for the school district.
"It's a sticky situation, but the board believes this is best for the community and students here," she said. "And there is no fracking here in Monterey County. The premise by which it was passed probably misled a lot of voters. California probably has the most stringent laws in the world when it comes to the extraction oil."
Aera Energy said it regretted the fight against the popular vote, but its CEO Christina Sistrunk said the company had no other remedy company. About 150 employees and contractors at Aera's San Ardo facility could be affected by Measure Z, and shutting down operations, as Measure Z requires, will cost education, public safety and other services millions of dollars, the CEO said in a statement.
"We filed this lawsuit to protect our workers, our legal rights and our many stakeholders in Monterey County that rely on Aera," Sistrunk said. "Measure Z won't just hurt our company. It will inflict significant unnecessary hardship on our employees and their families, as well as on Monterey County and its citizens, by exporting good jobs and essential revenues out of the county and into foreign countries."
Chevron expressed similar sentiments in a statement.
"As a result of Measure Z, public agencies such as Monterey County and San Ardo Union Elementary School District will lose millions of dollars in tax revenue, and small businesses will lose a significant source of local revenue and citizens will lose jobs," the oil giant said. "The county will also be liable for hundreds of millions of dollars in damages resulting from the illegal termination of oil and gas property rights. To avoid this outcome, Chevron, the San Ardo Union Elementary School District and several small businesses have joined together to file a lawsuit challenging Measure Z on the grounds that it exceeds the county's authority to regulate the oil and gas industry."
Aera Energy, owned by affiliates of Shell and ExxonMobil, is represented by Andrew Bassak with Manatt, Phelps & Phillips in San Francisco.
Chevron et al. are represented by Jeffrey Dintzer with Gibson, Dunn & Crutcher in Los Angeles.
Because of the lawsuits, most of Measure Z will be put on hold. Language in the initiative puts a stay on most prohibitions until a settlement is reached or the issue is decided in court, McKee said. Those affected may be exempt from the rules if they can show the measure results in an unconstitutional taking, as both Chevron and Aera contend.
County supervisors could grant a waiver, but McKee said that for a waiver to be granted, the county would have to hold a hearing. If the court determines there has been an unconstitutional taking, he said, a waiver could be granted retroactively. So, despite facing one of the largest corporations on the planet, Monterey has many tools at its disposal to for a successful defense.
"I think we have excellent attorneys in our office and we have obtained an excellent law firm, Best Best & Krieger, to handle the cases," McKee said. "We are going to be open to talking to everybody and see if we can litigate these cases with courtesy and respect."
To Learn More:
"Discussion Draft" of First-Ever California Fracking Regulations Raises a Howl from Environmentalists (by Ken Broder, AllGov)
California Finally Counts Them and Finds Half of New Oil Wells Are Fracked (by Ken Broder, AllGov)