Black Students Less Likely to Attend White Majority Schools than in 1968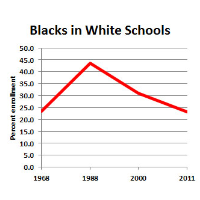 (graphic: Steve Straehley, AllGov)
More than 60 years after Brown vs. Board of Education declared segregated schools to be illegal and 50 years since the civil rights struggle of the 1960s, the nation's schools have begun to revert to a separate, but not equal, status.
The percentage of black students in majority white schools has fallen to a level not seen since 1968, according to U.S. Department of Education statistics. In 2011, majority white schools had an average of 23.2% black students. That compares to a high of 43.5% in 1988.
The decline is part of a deliberate policy, according to Ian Millhiser at ThinkProgress. Beginning in 1974, the Supreme Court, in Milliken vs. Bradley, began to limit the remedies that could be taken to integrate schools. Integration continued nonetheless, but in 1991, the court, at that time led by Chief Justice William Rehnquist, ruled that districts which had had a period of compliance with desegregation orders could then return to local control, Millhiser wrote. That began a return to the segregated schools of the past.
Subsequent high court decisions have made it even easier for districts to create segregated schools.
Current Chief Justice John Roberts wrote in Parents Involved vs. Seattle School Districts in 2007: "Before Brown, schoolchildren were told where they could and could not go to school based on the color of their skin. The school districts in these cases have not carried the heavy burden of demonstrating that we should allow this once again—even for very different reasons."
-Steve Straehley
To Learn More:
American Schools Are More Segregated Now Than They Were In 1968, And The Supreme Court Doesn't Care (by Ian Millhiser, ThinkProgress)
Brown at 60 (by Gary Orfield and Erica Frankenberg, Jongyeon Ee and John Kuscera, Civil Rights Project)
California School Segregation Among Worst in the Nation (by Ken Broder, AllGov California)
Study Finds Increasing School Segregation Based on Race and Economic Class (by Matt Bewig, AllGov)