Study Finds Increasing School Segregation Based on Race and Economic Class
Tuesday, September 25, 2012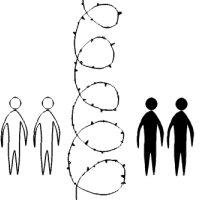 Accusing the country's political and educational leaders of having "passively accepted deepening school segregation," a new report on worsening school segregation argues that the U.S. needs "to find some of the same courage that transformed our society in the mid-twentieth century." The report by the Civil Rights Project at UCLA analyzes public school enrollment data nationwide and finds persistent and serious increases in segregation by race and class, a trend it calls "double segregation by race and poverty."
Specific findings of the report include the following:
• In 1970, nearly 80% of students were white, but by 2009 that dropped to just over half. Nonetheless, the typical white student attends a school where three-quarters of their peers are white.
• Latino enrollment has grown from 5% of U.S. students in 1970 to 22.8% today. Latino students have become the largest minority group in the West, where the typical Latino attends a school where less than a quarter of their classmates are white, nearly two-thirds are other Latinos, and two-thirds are poor.
• Nationwide, the typical black student is now in a school where 64% of classmates are low income, considerably more than the level in schools of typical white or Asian students (37% and 39%, respectively). Although New York, Illinois and Michigan are the most segregated states for black students, school re-segregation for black students is increasing most dramatically in the South since the 1991 Supreme Court case of Board of Education v. Dowell made it easier for school districts to dismantle desegregation plans.
• In the early 1990s, the average Latino and black student attended a school where roughly one-third of students were low income, but today attend schools where nearly two-thirds of their classmates are poor.
• Despite a migration to the suburbs by many non-white families, 80% of Latino students and 74% of black students attend majority non-white schools (50-100% minority), and 43% of Latinos and 38% of blacks attend intensely segregated schools (those with only 0-10% of whites students) across the nation.
• 15% of black students and 14% of Latino students attend "apartheid schools," where whites make up less than 1% of enrollment. Half of black students in the Chicago metro, and one-third in New York, attend apartheid schools.
Pointing to "the consensus of nearly sixty years of social science research" that "schools of concentrated poverty and segregated minority schools are strongly related to an array of factors that limit educational opportunities and outcomes," the report notes that integration has been proven to benefit white students as well as minorities. The report calls for effective action to blunt segregation and increase race and class integration, concluding that "there is much to learn about how to create lasting and successful diverse schools that can shape a successful multiracial society. The time to begin is now."
-Matt Bewig
To Learn More:
Civil Rights Project Reports Deepening Segregation and Challenges Educators and Political Leaders to Develop Positive Policies (Civil Rights Project press release)
E Pluribus… Separation: Deepening Double Segregation for More Students (by Gary Orfield, John Kucsera & Genevieve Siegel-Hawley, Civil Rights Project) (pdf)