Big Tobacco's Dire Health Warnings on E-Cigarette Packs Seen as Cynical Marketing Strategy
Wednesday, October 01, 2014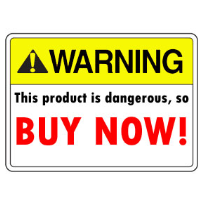 (graphic: Steve Straehley, AllGov)
Some of the biggest names in the tobacco business who have diversified into selling e-cigarettes have surprised critics by warning consumers about their dangers.
Some observers wonder what Altria, maker of Marlboros, and Reynolds American, producer of Camels, are up to, and whether their health warnings are sincere or cynical in nature. On packages of Altria's brand of e-cigarettes, part of the label reads: "Nicotine is addictive and habit forming, and is very toxic by inhalation, in contact with the skin, or if swallowed," according to The New York Times. Reynolds American says their e-cigarettes are not intended for anyone with "an unstable heart condition, high blood pressure, or diabetes; or persons who are at risk for heart disease or are taking medicine for depression or asthma."
Big Tobacco discouraging Americans from buying its unhealthy products?
Dr. Robert K. Jackler, a professor at the Stanford School of Medicine who specializes in cigarette and e-cigarette advertising, told the Times he "nearly fell off my chair" when he saw the warnings. "Is this part of a noble effort for the betterment of public health, or a cynical business strategy? I suspect the latter," Jackler said.
The strategy might be intended to prevent the industry from being sued in the future. Or, if big tobacco "curries favor with consumers and regulators," they may be "earning a kind of legitimacy that they crave and have sought for decades. Plus, they get to appear more responsible than the smaller e-cigarette companies that seek to unseat them," the Times' Matt Richtel wrote. A big part of the e-cigarette industry consists of independent shops that sell reusable vapor pipes and fluids.
-Noel Brinkerhoff
To Learn More:
Dire Warnings by Big Tobacco on E-Smoking (by Matt Richtel, New York Times)
E-Cigarette Makers Lure Young People by Using other Names for their Products (by Steve Straehley, AllGov)
$2-Billion E-Cigarette Industry Unleashes Lobbying Blitz to Limit Taxes and Regulation (by Noel Brinkerhoff and Danny Biederman, AllGov)
E-Cigarettes May be Less Harmful, but Also Lure More Kids into Smoking (by Noel Brinkerhoff, AllGov)