E-Cigarettes May be Less Harmful, but Also Lure More Kids into Smoking
Saturday, September 07, 2013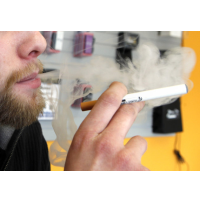 (photo: Ed Andrieski, AP)
With flavors like raspberry, peach and watermelon, e-cigarettes are proving an enticing sin for young people who may never have tried traditional cigarettes filled with tobacco. And though e-cigs may be less harmful than their predecessors, they are causing concerns among health officials who worry about the growing number of people smoking the high-tech alternatives.
A new survey produced by the Centers for Disease Control and Prevention (CDC) found the percentage of middle and high school students who use e-cigarettes doubled from 2011 to 2012.
Two years ago, only one in 20 high school students said they had tried an e-cigarette. But in 2012, the rate had jumped to one in 10.
In total, 1.8 million middle and high school students last year tried the battery-powered devices that deliver nicotine that vaporizes into an aerosol mist.
"This is really taking off among kids," Dr. Thomas Frieden, director of the CDC, told The New York Times.
Makers of e-cigs claim their products are a healthy alternative to smoking. Many researchers agree, while adding that their health effects are not yet clear.
The Food and Drug Administration currently does not yet regulate them. Although selling them to minors is illegal in many states, they can be readily purchased online, according to The Wall Street Journal.
The CDC found that most students who had tried e-cigarettes had also smoked traditional cigarettes. However, their findings also fuel concern among health officials is that e-cigarettes may become a path to smoking for those who otherwise would not have experimented. The data shows that 20% of middle school students and 7% of high school students who smoked an e-cigarette had never before smoked a traditional tobacco-filled cigarette.
Given the adolescent brain's greater susceptibility to nicotine, the marked increase in students' e-cigarette use may portend their eventual shift to using the more potent conventional cigarettes, according to Dr. Frieden.
-Noel Brinkerhoff
To Learn More:
Rise Is Seen in Students Who Use E-Cigarettes (by Sabrina Tavernise, New York Times)
9 Terribly Disturbing Things About Electronic Cigarettes (Huffington Post)
Notes from the Field: Electronic Cigarette Use Among Middle and High School Students — United States, 2011–2012 (Centers for Disease Control and Prevention)
Young People Giving up Cigarettes for a Good Chew and a Hit from the Hookah (by Ken Broder, AllGov California)