Big Increase in Reporting of Brain Injuries Suffered by Babies in U.S.
Saturday, August 20, 2016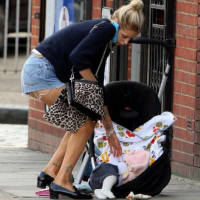 (photo: Twitter)
By Rachel Rabkin Peachman, New York Times
An average of 50 children a day end up in hospital emergency rooms because of stroller or baby carrier accidents, and it appears far more of them are suffering brain injuries than previously believed.
The finding is based on data collected through the National Electronic Injury Surveillance system, which revealed that an estimated 361,000 children 5 or younger had injuries serious enough to land them in a hospital emergency room between 1990 and 2010.
The analysis found that in 1990, fewer than one in five accidents in strollers or baby carriers resulted in traumatic brain injuries or concussions. But by 2010, 42 percent of children in stroller accidents and 53 percent of babies in carrier accidents who were treated in emergency rooms were found to have suffered a brain injury or concussion, according to the report published Wednesday in the journal Academic Pediatrics.
The higher rates of brain injury in recent years do not necessarily mean that strollers and baby carriers have become more dangerous, the researchers said. Instead, it may be that doctors and other health care providers have become more aware of traumatic brain injury and concussion, said Kristin J. Roberts, the study's co-author and a research associate in the Center for Injury Research and Policy at Nationwide Children's Hospital in Columbus, Ohio.
This "may lead health care providers to make a more conservative diagnosis when previously they would have categorized this as a less severe injury," Roberts said.
The data showed that the majority of the injuries (55 percent) occurred in children who were younger than 1 year old, and most of the injuries occurred when children fell from a stroller or carrier or when they tipped over. The head and face most commonly took the brunt of the falls.
"It's not uncommon to see a child who has fallen out of a carrier that was placed on a bed or a child who was not strapped into a stroller," said Dr. Leslie Dingeldein, a pediatric emergency physician at Rainbow Babies & Children's Hospital in Cleveland.
Roberts advises parents to always buckle children into their stroller or carrier, to keep stroller handles clear of bags (which could cause tipping), to make sure a product is appropriate for a child's age and size, and to check for product recalls regularly.
"We want to encourage parents to do everything they can to prevent these injuries because traumatic brain injury and concussions could have long-term and serious consequences," Roberts said.
While the study showed that an average of 17,187 children each year end up in hospital emergency rooms because of stroller and carrier injuries, overall injury rates associated with these accidents declined over the 21-year period studied.
Roberts said that the data undercounts the total number of stroller and carrier injuries because it doesn't include injuries that were treated at pediatricians' offices, private urgent care facilities or at home.
The study authors noted that in 2014, the Consumer Product Safety Commission issued updated standards that addressed potential stroller-related hazards such as hinges, brakes, buckles, structural integrity and stability. The new standards went into effect in September of 2015, after the study's data collection period.
"The good news for parents who rely on strollers and carriers is that new federal mandatory safety standards for these products address many of the risks to children identified in this study," Elliot Kaye, chairman of the safety commission, said in an email.
To Learn More:
Injuries Associated With Strollers and Carriers among Children in the United States, 1990 to 2010 (by Erica Fowler, MPH, Christopher Kobe, MD, Kristin J. Roberts, MS, MPH, Christy L. Collins, PhD, Lara B. McKenzie, PhD, MA, Academic Pediatrics) (abstract)
Children's Brain Injuries from Playground Accidents on Rise in U.S. (by Lindsey Tanner, Associated Press)
Shopping Cart Accidents Increase to 66 a Day (by Noel Brinkerhoff, AllGov)