Ban on Voting Rights for Iowa Felons Upheld by State Supreme Court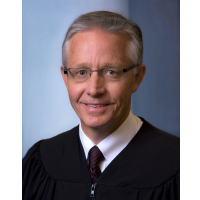 Justice Mark Cady
By Lacey Louwagie, Courthouse News Service
(CN) — A divided Iowa Supreme Court upheld a ban on voting access for residents who have been convicted of a felony, preserving its position as one of the strictest states in the country on voting rights.
Language in the Iowa Constitution barring residents who have committed an "infamous crime" from voting was at the heart of the dispute, as both sides argued over whether a woman's past conviction for delivering cocaine should prevent her from accessing the polls.
Kelly Jo Griffin challenged the statute by suing Iowa's secretary of state when her ballot was rejected after she attempted to vote in 2013, the same year she successfully discharged her sentence for her 2008 conviction.
Iowa Supreme Court Chief Justice Mark Cady cited the state's implementation of the National Voter Registration Act in 1994, in which the state's Legislature defined any felony as an "infamous crime," in support of the high court's decision to uphold the voting restrictions.
"[W]e conclude our constitution permits persons convicted of a felony to be disqualified from voting in Iowa until pardoned or otherwise restored to the rights of citizenship," Cady wrote in his 42-page opinion (pdf), published Thursday.
Cady's opinion outlines Iowa's inconsistent handling of voting restrictions for residents with criminal histories, which has caused continued confusion around the issue.
On July 4, 2005, Democratic Gov. Thomas Vilsack signed an executive order that restored voting rights to all Iowa residents who had already discharged their sentences for felonies.
But in 2011, Republican Gov. Terry Branstad revoked it. Currently, felons who have discharged their sentences must submit an application for restoration of their voting rights, which the governor handles on a case-by-case basis.
While other states have taken the position that only those crimes that directly interfere with the election process — such as treason — should be considered, "infamous," Cady says that Iowa has never taken this perspective.
"[N]o objective evidence exists that the founders of our Iowa Constitution adopted or intended to adopt a concept of infamy restricted to those crimes that undermine the integrity of the election process or any comparable standard, or that our state evolved to embrace such a standard at any time in our history," the judge wrote.
Iowa Secretary of State Paul Pate "applauded" the state Supreme Court decision.
"This ruling goes in line with 150 years of precedent and has been reaffirmed by the people of Iowa and their elected representatives on multiple occasions," Pate said in a statement. "I agree with Chief Justice Cady, who wrote that the term 'infamous crime' was generally recognized to include felonies at the time our Constitution was adopted, and that meaning has not sufficiently changed or evolved to give rise to a different meaning today."
But in his dissent, Justice Brent Appel disagreed, finding that the "drafters of the Iowa Constitution of 1846 distinguished between the terms 'infamous crimes' and 'felonies.'"
"If the 1846 and 1857 framers wished to disenfranchise all felons, they could have said so," he added. "We have often said that when a legislative body uses different terms in an enactment we assume different meanings are intended."
Justices David Wiggins and Daryl Hecht added their own dissents to the majority opinion.
Both Hecht and Appel argued that the Legislature overstepped its bounds by interpreting the meaning of "infamous crime" in the Iowa Constitution.
"Although the legislature expressed its understanding in 1994 that all felony crimes are infamous for purposes of identifying eligible voters ... the task of interpreting the Iowa Constitution falls to this court—not the legislature," Hecht wrote.
"Because the right [to vote] is fundamental, we must apply strict scrutiny in deciding Griffin's claim. A law that impedes a fundamental right is unconstitutional if it is not narrowly tailored to serve a compelling government interest," Hecht wrote. "In my view, disenfranchising voters for class 'C' felony drug offenses will not advance the integrity of elections or institutions of government. Indeed, I am not convinced that Griffin's conviction for delivery of cocaine or her subsequent exercise of the right to vote will tend to threaten or subvert the voting process; nor will it diminish in any untoward manner the voices of other voters."
In addition, Hecht argued that voting was conducive to reformation for ex-cons because it encourages civic involvement, while disqualification "stigmatizes felons and undermines their reintegration to society by treating them as second-class citizens even after they have served their prison sentences."
Appel expressed discomfort that voting rights are currently "subject to flip-flopping executive orders depending upon the political philosophy of the executive rather than upon a more stable regime." The judge also cautioned against the broader implications of voter disqualifications.
"The history of voter disqualification has disturbing features," Appel wrote. "In southern states after reconstruction, voter disqualification on the grounds of being convicted of infamous crimes was used as a tool to prevent African Americans from voting. Indeed, the Mississippi Supreme Court candidly explained that the purpose of its constitutional provision prohibiting persons from voting based on conviction of various offenses was to 'obstruct the exercise of the franchise by the negro race.'"
Voting restrictions for ex-felons has a disproportionate effect on black citizens throughout the U.S., including Iowa, where Appel says African-American disenfranchisement is "more than triple the national rate."
Rita Bettis with the Iowa chapter of the American Civil Liberties Union said, "This is no way to run a democracy."
"Iowa remains of just three states that permanently ban all people with a felony conviction from voting. With this decision, Iowa, Florida, and Kentucky are the only states that still impose permanent disenfranchisement," Bettis said in a statement.
The ACLU, which represented Griffin in the lawsuit, is now working with her to obtain a pardon from the governor. It is also setting its sights on a constitutional amendment that would expand voting rights for ex-felons in Iowa.
"People like me want to be productive members of society, so we should be treated that way," Griffin said in the ACLU statement. "I want to be able to cast my vote regarding my children's school, regarding my community, regarding things that are happening in my life because they affect me."
According to an Associated Press report, more than 56,000 ex-felons are denied a vote in Iowa, which remains an important swing state in national elections.
To Learn More:
Kelli Jo Griffin vs. Paul Pate, et al (Iowa Supreme Court) (pdf)
Voting Rights Restored to 200,000 Convicted Felons in Virginia (by Sheryl Gay Stolberg, New York Times)
Outgoing Kentucky Governor Restores Voting Rights to Non-Violent Felons who have Served their Terms (by Noel Brinkerhoff and Steve Straehley, AllGov)
State Drops Opposition to Letting Thousands of Low-Level Ex-Cons Vote Again (by Ken Broder, AllGov California)