As TSA Expands beyond Airports, Concerns are Raised over Warrantless Searches
Thursday, August 08, 2013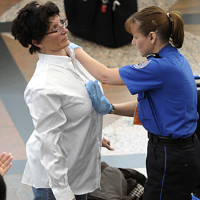 TSA at work (photo: Craig F. Walker, Denver Post, AP)
The Transportation Security Administration (TSA) has expanded its presence beyond airports, and in the process, raised concerns with civil libertarians over warrantless searches.
Special TSA teams known as Visible Intermodal Prevention and Response (VIPR) squads are now inspecting train stations, sporting events, concerts and other locations in an effort to minimize the risk of terrorism attacks.
But civil liberties groups, as well as some members of Congress and auditors at the Department of Homeland Security (DHS,) have expressed worries about the VIPR squads and their random security sweeps.
"The problem with T.S.A. stopping and searching people in public places outside the airport is that there are no real legal standards, or probable cause," Khaliah Barnes, administrative law counsel at the Electronic Privacy Information Center in Washington, told The New York Times. "It's something that is easily abused because the reason that they are conducting the stops is shrouded in secrecy."
In 2011, VIPR squads were temporarily banned from stepping foot on Amtrak property after they patted down passengers getting off a train in Savannah, Georgia, which Amtrak said was illegal. And last year in Houston, local bus travelers complained that TSA officers stopped them to search their carry-ons, an operation that resulted in the arrest of passengers with warrants for prostitution and minor drug possession.
Meanwhile, some lawmakers have argued that the teams may not be effective, and DHS auditors have questioned whether the teams are getting the proper training and are being deployed based on actual security threats.
Also, the Government Accountability Office issued a new report (pdf) saying cases of misconduct among TSA airport screeners increased by 26% between 2010 and 2012. GAO auditors uncovered 9,622 cases of misconduct, and concluded that TSA had insufficient procedures for reviewing and recording the outcomes of misconduct cases.
TSA, which has 56,000 employees and an annual budget of $100 million, performed search operations at more than 8,800 unannounced checkpoints last year. The agency will not reveal if its efforts have ever uncovered or disrupted any terrorist plot, calling that information classified.
-Noel Brinkerhoff, Danny Biederman
To Learn More:
T.S.A. Expands Duties Beyond Airport Security (by Ron Nixon, New York Times)
TSA Expands Role Beyond Airports amid Growing Cases of Misconduct (RT)
TSA Spreads to Trains, Subways, Bus Terminals and Ferries (by Noel Brinkerhoff and David Wallechinsky, AllGov)
Tennessee First State to Allow TSA Highway Random Search Program (by David Wallechinsky and Noel Brinkerhoff, AllGov)