As Obama Strikes Climate Accord with China, the Environment Lands in Crosshairs of New Republican Congress
Thursday, November 13, 2014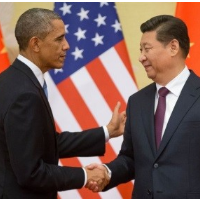 President Obama and Chinese President Xi Jinping (photo: Pablo Martinez Monsivais, AP)
As he attempts to build his legacy in the final years of his administration, President Barack Obama is working to establish policies to limit climate-changing emissions through federal regulatory actions and an international accord with China. But Republicans who have fought U.S. restrictions on business to reduce greenhouse gases are determined to use their new congressional power to stymie those efforts.
Obama announced during a trip this week to Beijing that his administration has reached a deal to reduce emissions from both countries—a major achievement considering the U.S. and China have been the biggest emitters of carbon dioxide.
Under the proposed agreement, the U.S. would seek to reduce its greenhouse gas emissions 26% to 28% below 2005 levels by 2025. The U.S. target is currently 17% below 2005 emissions by 2020. China would cut its emissions by 20% by 2030.
Despite Republicans' promise to throw a wrench in Obama's climate change plans, the Environmental Protection Agency (EPA) has a plan ready for December 1 to strengthen limits on smog-causing ozone, as well as a December 19 rule for reducing coal ash waste by power plants, according to Politico.
The EPA has two more sets of regulations that also make Republicans shudder: A January 1 plan to stop power plants from emitting pollutants that foul the air of states downwind and a January 8 deadline to issue a rule governing new plants' greenhouse gas emissions.
"The pending EPA actions alone could amount to the most ambitious burst of environmental regulatory activity from Washington since President George H.W. Bush approved a crucial set of amendments to the Clean Air Act in 1990," Andrew Restuccia and Erica Martinson wrote at Politico.
Republicans probably won't be able to pass legislation that would stop these rules, but they might try to cut off EPA funding, which could have the same result. Sen. James Inhofe (R-Oklahoma) will probably chair the Senate Environment and Public Works Committee in the coming session. He is a virulent denier of climate change and is expected to do whatever he can to stop environmental regulation.
"We know that there will be attempts to impede or scale back our actions," White House counselor John Podesta told The New York Times. But he added, "We're confident we can prevail."
The GOP-led Congress is also expected to push for approval of the Keystone XL pipeline, which promises to bring toxic tar-sands oil from Canada through the U.S. Midwest.
-Noel Brinkerhoff, Steve Straehley
To Learn More:
The Coming Climate Onslaught (by Andrew Restuccia and Erica Martinson, Politico)
U.S., China Agree to New Cuts to Combat Climate Change (by Phil Mattingly and David J. Lynch, Bloomberg)
Republicans Vow to Fight EPA and Approve Keystone Pipeline (by Coral Davenport, New York Times)
The New GOP Senate is Already Gearing Up to Cause Climate Mayhem (by Ben Adler, Grist)
Mitch McConnell Says His Top Priority Is To 'Get the EPA Reined In' (by Ari Phillilps, ThinkProgress)
What the Midterms Mean for the Climate Movement (by Kate Aronoff, Alternet)
House Republicans Clash with Pentagon over Climate Change and National Security (by Noel Brinkerhoff and Steve Straehley, AllGov)
Congressman from Koch Attacks $30,000 EPA Intern Program (by Noel Brinkerhoff, AllGov)