Army Corps of Engineers, for the First Time, Agrees to Release Details of Pollutants Coming from Some Dams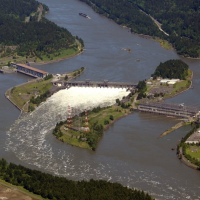 Bonneville Dam (AP Photo)
After decades of resisting demands from environmentalists and federal regulators, the U.S. Army Corps of Engineers will for the first time publicize the amount of pollution being discharged from dams it operates in the Northwest.
The change came about after an environmental group, Columbia Riverkeeper, successfully sued the Corps into agreeing to disclose the information and to submit to federal oversight by the U.S. Environmental Protection Agency (EPA), which has sought to oversee the dams run by the Corps.
The Corps said it would begin notifying Columbia Riverkeeper of any oil spills among its eight dams on the Columbia and Snake rivers. Those dams are the Bonneville, the John Day, The Dalles and McNary in Oregon and the Ice Harbor, Lower Monumental, Little Goose and Lower Granite in Washington.
"Under the letter of the law, they have been engaged in unpermitted discharge for years," Melissa Powers, an environmental law professor at Lewis & Clark Law School in Portland, told The Associated Press. "They should have long ago said, 'This is how much we're discharging. Here are the environmental impacts.'"
Nigel Duara of The Associated Press reported that the "groundbreaking legal settlement" could have "broad implications for the Corps' hundreds of dams nationwide." However, it's unclear if or when the other dams managed by the Corps will be similarly regulated.
For now, the Corps will work with the EPA to obtain pollution permits, which it has never done for the dams on the Columbia and Snake rivers.
The Corps did not have to admit any wrongdoing as part of the settlement, but it will pay $143,000 in legal fees.
-Noel Brinkerhoff
To Learn More:
Historic Deal for Corps Dam Pollution (by Nigel Duara, Associated Press)
Columbia Riverkeeper v. U.S. Army Corps of Engineers (U.S. District Court, Eastern Washington) (pdf)
Corps of Engineers' Settlement Won't Change Thurmond Dam Operations (by Meg Mirshak, Augusta Chronicle)
Supreme Court Rules Federal Government is Liable for Arkansas Forest Damage (by Noel Brinkerhoff, AllGov)