Arlington Cemetery Officer Fired for Helping Media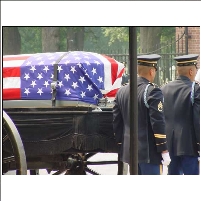 Army funeral at Arlington
After serving in Iraq, public affairs specialist Gina Gray figured her new assignment handling media requests for Arlington National Cemetery would be a lot safer and easier. She thought wrong. Soon after taking over as the public affairs director for the nation's best known military cemetery, Gray discovered the Army was trying to thwart media access to funerals for fallen soldiers. She bucked this effort, and after telling The Washington Post what was going on, she was first demoted, and then fired by the U.S. Army.
Gray also has claimed Higginbotham called the families of the dead to encourage them not to allow media coverage at the funerals—a charge a high-ranking official at Arlington has confirmed.
Gina Gray has filed a lawsuit against the Army and the Army Criminal Investigation Command, claiming that her Arlington email account had been accessed without her permission and that someone had sent out a message using her name. Gray is asking for the release of the final Army investigatory report regarding her case.
-Noel Brinkerhoff