Appeals Court Slams EPA for Lax Enforcement of Clean Air Act
Monday, December 29, 2014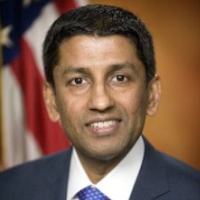 Judge Sri Srinivasan
In response to a suit brought by the Natural Resource Defense Council (NRDC), a federal appeals court voted 2-1 to slap down (pdf) an attempt by the Environmental Protection Agency (EPA) to weaken enforcement of a law designed to cut ozone out of the atmosphere.
In 2008, the EPA issued regulations that would allow some areas extra time to comply with a Clean Air Act-mandated reduction in the allowable amounts of ground-level ozone, which is a product of fossil fuel consumption, and with restrictions on planning transportation projects that might add to ozone production, according to Timothy Cama of The Hill.
Ozone is hard on those with respiratory problems and has been linked to nervous system disorders and heart ailments.
Judge Sri Srinivasan found that the EPA had no right to change the implementation date of the regulations, nor could it lift restrictions on projects that might add to the ozone problem. "We conclude that both challenged aspects of EPA's regulations implementing the 2008 ozone standards exceed the agency's authority under the Clean Air Act," he wrote. "…Because we find that the EPA's challenged implementation rules exceed the agency's authority under the Clean Air Act, we vacate the pertinent portions of EPA's regulations."
The NRDC, which filed the suit in 2012, called the decision "an important clean air win."
John Walke, the NRDC's clean air director issued a atatement that "…. thanks to the court ruling, tens of millions of Americans will not have to breathe unhealthy air for a year longer than what the law allows."
-Steve Straehley
To Learn More:
Circuit Dings EPA for Loosening Ozone Deadlines (by William Dotinga, Courthouse News Service)
Court Throws Out Exceptions in EPA Ozone Rule (by Timothy Cama, The Hill)
Natural Resources Defense Council vs. Environmental Protection Agency and Gina McCarthy (pdf)
GOP House Leader from Polluted-Bakersfield Leads Fight for Dirtier Air (by Ken Broder, AllGov California)
Obama's Aggressive Environmental Agenda Relies on Powerful 1970 Clean Air Act (by Steve Straehley, AllGov)