Another Rough Day for Utah's Marriage Laws: First Polygamy, Now Same-Sex
Monday, December 23, 2013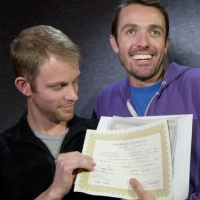 Seth Anderson and Michael Ferguson celbrate their marriage in Utah December 20, 2013 (photo: Kim Raff, AP)
Less than a week after a Utah state judge struck down key portions of the state's anti-polygamy law, a federal judge in Utah invalidated its anti-gay marriage ban, holding that the U.S. Constitution's guarantees of equal protection and due process under the law forbid states from denying marriage rights to gays that it gives straights.
"The state's current laws deny its gay and lesbian citizens their fundamental right to marry and, in so doing, demean the dignity of these same-sex couples for no rational reason," concluded U.S. District Judge Robert J. Shelby in the 53-page decision. "Accordingly, the court finds that these laws are unconstitutional."
The laws struck down by Shelby included two separate statutes and Amendment 3 to the state's constitution, which Utah voters approved in 2004. In the wake of the decision by the New Mexico Supreme Court that the New Mexico state constitution forbids marriage rights discrimination, Utah became the second state in the southwest (and 18th overall) to recognize marriage equality—but that may not last long.
Seeking to stem the tide of same sex marriages that began to rise soon after Shelby's ruling became public, Acting Utah Attorney General Brian Tarbet appealed to the 10th Circuit Court of Appeals in Denver and filed a motion asking Shelby to stay the ruling while the appeal is pending. "The federal district court's ruling that same-sex marriage is a fundamental right has never been established in any previous case in the 10th Circuit," said a statement released by Tarbet's office.
Utah Gov. Gary Herbert released a statement to the effect that he was "very disappointed an activist federal judge is attempting to override the will of the people of Utah" and promised "to determine the best course to defend traditional marriage within the borders of Utah."
Proving that there are strong differences of opinion regarding the issue even among the Beehive State's politicos, Salt Lake City Mayor Ralph Becker officiated at the impromptu Friday wedding of Jim Dabakis, the head of Utah's Democratic Party, and his partner of 27 years, Stephen Justesen.
Ironically, Shelby's ruling—the first federal court decision striking down a state marriage law since the U.S. Supreme Court's ruling last summer invalidating the federal Defense of Marriage Act—is based in part on a dissenting opinion written by marriage equality opponent Justice Antonin Scalia ten years ago. Scalia, dissenting from the high court's ruling in Lawrence v. Texas that states may not criminalize private homosexual conduct, argued that the Court's reasoning logically extended "to protect an individual's right to marry a person of the same sex," and Shelby, without a trace of irony, agreed: "The Supreme Court's decision in Lawrence removed the only ground—moral disapproval—on which the State could have at one time relied to distinguish the rights of gay and lesbian individuals from the rights of heterosexual individuals."
-Matt Bewig
To Learn More:
Federal Judge Strikes Down Utah Ban on Same-Sex Marriage (by Brooke Adams, Salt Lake Tribune)
Utah's Same-Sex Marriage Ban is Unconstitutional, Judge Rules (by Niraj Chokshi, Washington Post)
Kitchen, Sbeity et al. v. Herbert (pdf)
Federal Judge Says Polygamy in Utah is Okay as Long You Don't Have More than One Marriage License (by Noel Brinkerhoff and Danny Biederman, AllGov)